Monteverde Trainforest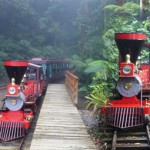 Monteverde Trainforest.
Travel through the Tropical Cloud Forest on a train, on a 6 kilometers railway in 90 minutes. It includes a tunnel, and four bridges, one view point where you can observe the Arenal Volcano and Arenal Lake, as well as part of the Children's Eternal Rainforest, and more.
Includes:
Entrance fees
Transportation
Bilingual tour guide who specializes in snakes
Duration: 1 ½ hours (plus 40 to 60 minutes travel).
Hours: 7:00 a.m. to 5:00 pm
Rates: $79.00 Adults, $39.00, Children under 12
Bill Beard
Bill Beard is the true pioneer of scuba diving in Costa Rica, started diving from dug out canoes in 1970. Bill Beard's Travel specializes in family vacation packages, scuba diving and adventure tours. Our attention to detail defines us.