10 In 1 Manuel Antonio Adventure Tour
On this 10 In 1 Manuel Antonio Adventure Tour you will travel down the barrel of a river in a Hummer truck, ride up a very steep mountain, hike via ferrata over looking the beautiful scenery, feel the adrenaline rush as you fly through the skies on the Tarzan swing and then get prepared to be soaked as you rappel and zip line through the most spectacular waterfalls imaginable.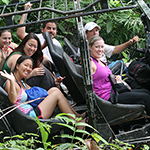 Private transportation will pick you up at your hotel or private rental home to take you for a delicious home-made breakfast, then you will start your adventure and head on to San Antonio de Damas, where you will take the Hummer while you travel down the bed of a river. After this ride, you will have a 10 minute hike through nature trails before arriving at the main quarters. Here your guides will give you all the special equipment and instructions.
Now, let the fun continue and increase as you start hiking via ferrata, which means that you will be walking at the borders of the canyon, attached to the walls by special ropes. While you walk down the canyon of Río Damitas, you will get rid of all your fears as you experience the tarzan swing for a couple of times, then you will find the first rappel, a small one of just 45 feet. From here you will continue and fly over a waterfall in the first 110 feet zip line. The next one will make you go "literally" through a waterfall and will let you free fall into a pristine pond! From here you will find a new rappel, that leads to a new zip line and to a caving ladder which is an ascend of about 20 feet that will get you to 'La Galeria" our natural platform from where you do a mix of rappel & zip line from the top of a waterfall (about 190 feet). You will have the adventure of a life time, and you will want to come back again and again, guaranteed.
What To Bring & What To Expect.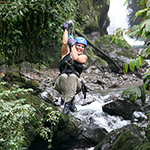 First of all, remember you will be on a full adrenaline adventure at the heart of the Costa Rican jungle, expect some humidity and warm temperatures (and unexpected rain from time to time).
Taking that into consideration, we recommend that you wear comfortable, light clothing, that can dry easily when wet. Some people will prefer pants than shorts for the rappel, but this is not necessary. Remember that you will get wet, so extra set of clothes and a towel for your trip back is highly recommended. Also if you get cold easily a light sport jacket can come in handy.
For good traction, make sure you wear rubber soled shoes, water or canyoning shoes would be ideal, but sneakers or strap on sandals (Tevas) will do the trick (no flip flops!). Again, remember we will be walking on slippery rocks, so this recommendation is for your safety. If you would like to use insect repellent (not really needed though) you can bring some, and the regular rule when in the sun in Costa Rica, wear sun protection (water proof). Do not bring sun glasses, or leave them in the van. If you need prescription glasses, make sure you wear a Croakie strap on them so you don't lose them in the middle of the jungle!
Even though you can bring your own waterproof camera, we highly recommend that you don't. You will be hanging upside down cables, rappelling, zip lining and it is going to be difficult for you to get a good picture and enjoy your trip at the same time you are making sure your camera does not fall from a tree or into the waterfalls! We have trained professional photographers that will take great shots for you for a very affordable price.
$130 per person
The adventures included are:
Waterfall Rappel • Via Ferrata • Canyon Rappel • Canopy Zip Line • Canopy Rappel • Waterfall Zip line •
Waterfall Tarzan Swing • Free fall into river pool • Caving Ladder • Zip Line Guided Rappel + 4×4 safari Transportation
Departures: 6:45 AM / 8:30AM / 10:30 AM – Duration: 7 hours (aprox).  Experience: Not required
Operates year around: Minimum age is 6 years
Bill Beard's offers many other adventure tours in this area: LEARN MORE
468
true
dots
bottomright
264
true
true
800
none

To see all the other adventure tours that Bill Beard's operates in Costa Rica: CLICK HERE
Bill Beard's Costa Rica has privately escorted tours and first class accommodations  throughout the country that may be added to other packages.
We also offer world class adventure tours, scuba diving, surfing, sailing and fishing.
We arrange everything in advance, so you can relax and enjoy your vacation.
For single, triple, quad or group rates, contact our agents.
Our Reservation Office Is Located In La Fortuna, Costa Rica In The Shadow Of Arenal Volcano, behind the Catholic Church, Near The World Famous Hot Springs.
For Reservations & Information
Contact Our Office At 877 853-0538 or 954 453-5044 M – Sat., 9 – 9 ET
Sign up for our Latest Newsletter & Adventure Travel Deals
Read Our Reviews on Trip Advisor…or Write One of Your Own
10 In 1 Manuel Antonio Adventure Tour, Costa Rica