Aguila de Osa Inn
Experience the magic and beauty of untouched nature on Costa Rica's Osa Peninsula that comes alive at Aguila de Osa Inn.
A true rainforest and marine adventure lodge, Aguila de Osa Inn overlooks a panorama of Drake Bay from the mouth of the Aguijitas River and is only a short distance from two of Costa Rica's most precious natural gems, Corcovado National Park  and Caño Island Marine  Reserve. Surrounded by vibrant jungle, our hotel provides guests with the ultimate ecotourism experience: peaceful luxury and limitless adventure amongst a magnificent natural backdrop.
Aguila de Osa Inn offers its visitors accommodations with exquisitely handcrafted details, gourmet tropical dining in the hotel's open-air Great Room, gracious hospitality, and the opportunity for even the most intrepid traveler to experience Costa Rica's finest natural gifts, all while we strive to meet the highest standards of sustainable tourism.
Aguila de Osa's home on Osa Peninsula is brimming with wildlife, called by National Geographic "one of the most biologically intense places on Earth." On our variety of tours and excursions, the abundant treasure of tropical plants, mammals, insects, and over 350 species of birds in the region will continually reveal themselves to you, unfolding a new spectacle with every step you take.
Rio Selva Restaurant
Dining at Aguila de Osa's Restaurant Rio Selva is a unique experience in itself. Our open-air restaurant is the heart of the property, sitting over the Agujitas River with a dramatic ocean view and tropical sights and sounds surrounding you as you dine. The restaurant, with seating for 48, serves as the ideal setting for sharing your day's adventures with other travelers from around the world, and watching diverse wildlife right from the dinner table.
Amenities:
King and Queen size beds with 300-thread count linens
Ceiling fans
Spacious bathrooms with showers accented with Italian tile
Soaps, lotions and shampoos
Hair dryers
Complimentary Wi-Fi is available throughout the whole hotel
Free local & international calls
Coffee maker and complimentary local coffee
Refrigerator an mini bar with snacks
Daily maid service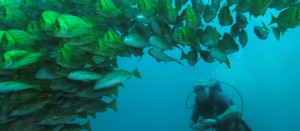 There is a high standard of excellence in personalized customer service at Aguila de Osa Inn for your most unforgettable vacation adventure.
To see adventures tours offered daily at Aguila de Osa by Bill Beard's: CLICK HERE
480
true
dots
bottomright
300
true
true
800
none

To see all the adventure tours that Bill Beard's operates Throughout Costa Rica: CLICK HERE
Bill Beard's Costa Rica has privately escorted tours and first class accommodations  throughout the country that may be added to other packages.
We also offer world class adventure tours, scuba diving, surfing, snorkeling, sailing and fishing.
We arrange everything in advance, so you can relax and enjoy your vacation.
To see the dive sites available from this resort: CLICK HERE
For single, triple, quad or group rates, contact our agents.
Our Reservation Office Is Located In La Fortuna, Costa Rica In The Shadow Of Arenal Volcano, behind the Catholic Church, Near The World Famous Hot Springs.
For Reservations & Information
Contact Our Office At 877 853-0538 or 954 453-5044 M – Sat., 9 – 9 ET
Aguila de Osa Inn Costa Rica