Arenal Paraiso Resort and Spa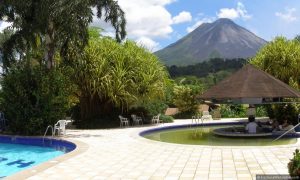 Arenal Paraiso Resort & Spa is located in the north central region of Costa Rica, near the town of La Fortuna where you can discover the natural beauty of the rain forest with a great variety of exotic plants, animals and birds while enjoying magnificent views of Arenal Volcano. This is a best place in Costa Rica for outdoor adventure and for those seeking solitude with nature.
Bill Beard's can add adventure tours to your itinerary that may include white water river rafting on several option of rivers from class II to class IV, waterfall rappelling, zip line canopy tours, horseback riding, ATV tours, hiking, wildlife observation boat tours, waterfalls and other world famous hot springs and gardens These tours operate daily and includes pick up and drop off at the hotel.
Arenal Paraiso Resort and Spa offers eleven hot springs fed pools. After a long day of hiking and exploring you may treat your body to a relaxing massage or mud wrap at the hotel's Mayin spa.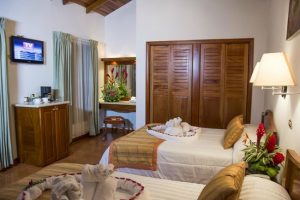 The Arenal Paraiso offers Standard and Superior rooms and Suites, surrounded by lovely gardens and panoramic views. The wood finished Superior Rooms, larger than the standard rooms, have a balcony surrounded by glass. The Suites come with two bedrooms each, a private bath in each room, living room and a jacuzzi in the master room. All the roooms have a great view of the volcano from the balcony.
Let Bill Beard's Costa Rica set up your itinerary. To see the tours that Bill Beard's operates daily from Arenal Paraiso: CLICK HERE
We have privately escorted tours and first class accommodations throughout the country that may be added to other packages. To see all the adventure tours that Bill Beard's operates Throughout Costa Rica: CLICK HERE
Sublimely beautiful Costa Rica has something for everyone. The treats range from exciting adventure to leisurely relaxation, and everything in between that we can add to your vacation package. Furthermore, tourists can sample the laid-back national lifestyle that ticos (the name Costa Ricans call themselves) refer to as 'Pura Vida' – 'pure life': no stress, no hassle. All this, combined with unsurpassed natural beauty and a developed and accommodating tourist industry, makes Costa Rica a wonderful place to visit & vacation.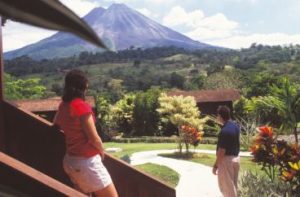 Our Reservation Office Is Located In La Fortuna, Costa Rica In The Shadow Of Arenal Volcano, behind the Catholic Church, Near The World Famous Hot Springs.


For Reservations & Information

Contact Our Office At 877 853-0538 or 954 453-5044 M – Sat., 9 – 9 ET
Sign up for our Latest Newsletter & Adventure Travel Deals
Get Connected And Stay Up To Date with Bill Beard's:
Like Us On Facebook
Follow Us On Twitter
Watch Us On YouTube
Connect On LinkedIn
Check Us Out On TripAdvisor
IMPORTANT NOTE – Please be advised that every reasonable effort has been made to keep all prices up to date and free of errors or omissions. Prices and policies from our vendors and the Costa Rican government are subject to change without notice. Invoices will be issued at the time of booking to confirm all final rates and offers.