Arenal To Monteverde By Boat Lake Crossing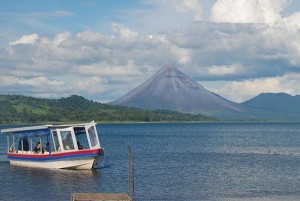 Arenal To Monteverde By Boat Lake Crossing – It will be  a half hour to the boat.  where we will take a 30 minute boat ride over lake Arenal and then we will take a van 1 1/2 hours through the beautiful countryside to your Monteverde hotel. You may also cross from Monteverde to Arena Volcano and La Fortuna.
Lake crossing
There are three ways to get from La Fortuna To Monteverde
* Public bus from La Fortuna (7:00 a.m.) with change in Tilaran (1:00 p.m.) takes 8 hours
* Rental car takes about 4 hours
Lake crossing only takes aprox. 2.5 hours!

Taxi Boat Taxi from La Fortuna To Monteverde
* Departure time from Monteverde: 8:00 a.m and 2:00 p.m.
* Departure time from La Fortuna: 8:30 a.m. and 2:30 p.m.

Taxi Boat Taxi from La Fortuna To Monteverde

The boat has capacity for 40 persons and allows for a little birding around the edges of the lake where you will enjoy some of acuatic birds like the ringed kingfisher, the snowy egret, the great egret, the spotted sandpiper, the blue heron, and other tropical birds are abundant.
Arenal To Monteverde By Boat Lake crossing is the most popular way to travel between Arenal & Monteverde.
Includes:
Includes pick up from your Arenal or Monteverde Hotel.
Non-Private Transportation may stop at multiple hotels before or after your pickup and drop-off times.
Bus from Arenal to Boat – Boat to Monteverde Side Of Lake – Bus To Monteverde Hotels
Tour Info
Average Time: 2.5 hours
This is a shared tour with no more than nine people
Rates: $50 Per Person  Minimum of 2 persons
Tour Schedule: Schedule: 7:00pm
What to bring
Comfortable walking shoes (good track shoes)
Long pants.
Camera.
Insect Repellent
Bottle of water.
ADD This tour to any hotel package and we will discount this tour

Private Transport is not currently available.
Other great adventure tours that Bill Beard's operates in this area: LEARN MORE
480
true
dots
bottomright
300
true
true
800
none

Adventure tours that Bill Beard's operates throughout Costa Rica: LEARN MORE
Bill Beard's Costa Rica has privately escorted tours and first class accommodations  throughout the country that may be added to other packages.
We also offer world class adventure tours, scuba diving, snorkeling, surfing, sailing and fishing.
We arrange everything in advance, so you can relax and enjoy your vacation.
For single, triple, quad or group rates, contact our agents.
Our Reservation Office Is Located In La Fortuna, Costa Rica In The Shadow Of Arenal Volcano, behind the Catholic Church, Near The World Famous Hot Springs.
For Reservations & Information
Contact Our Office At 877 853-0538 or 954 453-5044 M – Sat., 9 – 9 ET
Arenal To Monteverde By Boat Lake Crossing Costa Rica