Belmar Hotel At Monteverde
Belmar Hotel At Monteverde  is nestled in the mountains. It is adjacent to the immense tropical rainforest internationally known as one of the world's premiere wildlife sanctuaries – the Costa Rica Monteverde Cloud Forest Preserve.
It is a typical mountain hotel, consisting of two Austrian Chalet style buildings. We offer spectacular views and personalized service in a comfortable and rustic, atmosphere.
Our philosophy is centered in nature and delicious and nutritional homemade meals. We invite you to take part in our mission of dispersing the seeds of ecological consciousness around the world.
Belmar Hotel At Monteverde Key Features * Two Austrian-style Chalets in Monteverde * Rooms with View of Gulf of Nicoya or Cloud Forest * Peaceful & quiet * Private trail * Restaurant & Bar * Guided Tours * Laundry Service * Jacuzzi surrounded by gardens * Internet wireless * Pool table . Hotel Belmar Monteverde (CST) Sustainable Tourism Certification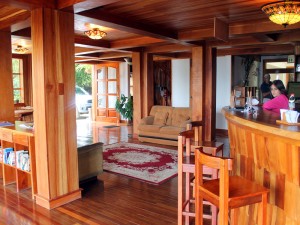 Always hand in hand with nature, culture and society, the hotel is proud to be contributing to the tourism sustainability of Costa Rica, being part of the program of the Tourism Sustainability Certification, granted by the Costa Rican Tourism Institute to the tourism companies which like us, fight for giving a service in harmony with nature, this way avoiding negative impacts in the environment, culture, and society. The classification system works with leaves, which are established through a scale from 0 to 5 (the same as the stars). Belmar Hotel At Monteverde has 4 leaves.
To see the adventure tours offered by Bill Beard's daily from Hotel Belmar: CLICK HERE
480
true
dots
bottomright
300
true
true
800
none

To see all the adventure tours that Bill Beard's operates in Costa Rica: CLICK HERE
Bill Beard's Costa Rica has privately escorted tours and first class accommodations  throughout the country that may be added to other packages.
We also offer world class adventure tours, scuba diving, surfing, sailing and fishing.
We arrange everything in advance, so you can relax and enjoy your vacation.
For single, triple, quad or group rates, contact our agents.
Our Reservation Office Is Located In La Fortuna, Costa Rica In The Shadow Of Arenal Volcano, behind the Catholic Church, Near The World Famous Hot Springs.
For Reservations & Information
Contact Our Office At 877 853-0538 or 954 453-5044 M – Sat., 9 – 9 ET
Belmar Hotel At Monteverde Costa Rica