Borinquen Horseback Canopy Hot Springs Mud Baths
Borinquen Horseback Canopy Hot Springs Mud Baths – Relax and rejuvenate in the secluded, picturesque outskirts of the Rincón de la Vieja Volcano in Guanacaste, Costa Rica
468
true
dots
bottomright
264
true
true
800
none

This is one of Bill and Nadine Beard's favorite places to go in the NW Pacific area.
This beautiful Mountain Resort & Spa is the perfect place for fun and adventure or just pure relaxation.
Surrounded by breathtaking landscapes and lush forests, this spot offers a wide variety of outdoor and adventure activities to enjoy.  The Spa is outstanding and professional masseuses can work out all your stress.
Arrive to lush rolling hills with steaming fumaroles rising against a background of verdant green. Step into the lobby where you will be welcomed with a refreshingly light fruit drink.  If you want to have one of the Optional Spa Treatments available, sign up for them before your tour.
The stable is just a hundred feet or so away where beautiful, well-trained, easy-going horses perfect for novices and experts alike wait for you to mount them.

Ride along this beautiful property, a real working ranch known for its cattle and water buffalo, until you reach the Waterfalls.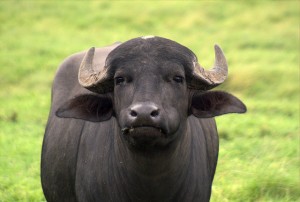 Your cowboy guide will be happy to point out flora, fauna, and wildlife along the way. Take your camera in a small hip-pack or backpack, because you'll want to take home plenty of photos from this tour.
Return to the ranch's laid-back dining room where you will be served a delicious lunch with local fruit drink. Beer, sodas, and alcoholic beverages are available, but not included.
After lunch, head to the natural sauna and open your pores. When you are done, head to the mud vats and layer on some warm, volcanic mud. Take some photos — these are sure to be ones you won't want to miss getting. When the mud has dried thoroughly you can rinse off in the showers before relaxing in the thermal pools – one hot, one warm, and one cold.
There is a small bar near the thermal pools where you can purchase sodas, beers, and mixed drinks. When you have changed into your street clothes, you will be driven back to your hotel.
Optional Spa Treatments are available, but you will need to sign up for them when you arrive.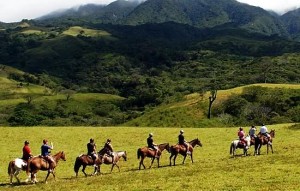 You will picked up at your Beach Hotel in the early morning
Playa Hermosa & Ocotal
–Approx 7:30 AM (Non-Private)
and 8 AM (Private Vehicle).
Drive time approx 1 hrs 15 mins
Flamingo, Tamarindo, Paradisus Playa Conchal
-Approx 7:00 AM (Non-Private)
and 7:30 AM (Private Vehicle).
Drive Time approx 1 hrs 45 mins
Includes
    Transportation to and from Playa del Coco & Playa Hermosa. There is an additional charge      for hotels outside these areas.
    Non-private add $10 Per Person for pickup from RIU, Four Seasons, Allegro, Hilton,            Tamarindo, Hacienda Pinilla and JW Marriott, Flamingo
    Bilingual certified guides
    Horseback riding to tree top canopy tour.
    Zip line tree top canopy tour
    Thermal hot springs & mud baths
    Towels – showers
    Lunch. (Photo service available on most trips)
Non-Private Tour Info
    Tour Rates:$ 174 Per person  –  Minimum of 2 persons – Children 0 – 4 No Charge – 5 – 12 $126 (with 2 paying adults)
    Transportation may stop at multiple hotels before or after your pickup and drop-off times.
    Duration: 8 hours
    Schedule: Departs daily at 7:30am and returns at 4:00pm
    Requirements: No Minimum age
Private Tour Info Valid Dates Until December 15, 2016
Tour Rates:    –  Minimum of 2 persons
2 Persons – $ 234  Per Person
3 Persons $187
4 Persons – $177
5 Persons $160  6+ Persons $149  Per Person. Children 0 – 3 $55 – 5 – 11 $93 (each)
Duration: 8 hours
Schedule: Departs daily at 7:30am and returns at 4:00pm
Requirements: No Minimum age
What to bring
    Fast drying clothing (surf shorts, outdoor hiking type synthetic clothes).
    Adventure sandals, tennis shoes or light hiking boots.
    Camera or video (we have individual dry bags).
    Change of clothes and towel.
    Sunscreen – Insect Repellant
If you are allergic to horses or don't care to ride, let us know so we can arrange motorized transportation while you are visiting this lovely property. We have this same tour with ATV's.
These activities are NOT RECOMMENDED for pregnant women, those with heart issues, back problems, or other conditions that may preclude them from safely participating in these activities or bring potential harm to other participants
Great Tours That Bill Beard's Operates In This Area: LEARN MORE
To see all the other adventure tours that Bill Beard's operates throughout Costa Rica: CLICK HERE
Bill Beard's Costa Rica has privately escorted tours and first class accommodations  throughout the country that may be added to other packages.
We also offer world class adventure tours, scuba diving, snorkeling, surfing, sailing and fishing.
We arrange everything in advance, so you can relax and enjoy your vacation.
For single, triple, quad or group rates, contact our agents.
Our Reservation Office Is Located In La Fortuna, Costa Rica In The Shadow Of Arenal Volcano,
behind the Catholic Church, Near The World Famous Hot Springs.
For Reservations & Information
Contact Our Office At 877 853-0538 or 954 453-5044 M – Sat., 9 – 9 ET
Sign up for our Latest Newsletter & Adventure Travel Deals
Borinquen Horseback Canopy Hot Springs Mud BathsEffective July 1, 2015 – IMPORTANT NOTE – Please be advised that every reasonable effort has been made to keep all prices up to date and free of errors or omissions.  Prices and policies from our vendors and the Costa Rican government are subject to change without notice. Invoices will be issued at the time of booking to confirm all final rates and offers.