Britt Coffee Tour In Costa Rica
The Britt Coffee Tour In Costa Rica is more about the commercial aspects of coffee and the education part is done through stage playing by some very talented actors.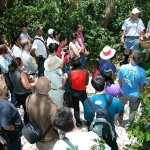 Britt Coffee Tour In Costa Rica – This is really a fun tour and you learn all about coffee while having an enjoyable day.
Immerse yourself in the fascinating world of gourmet coffee – Costa Rica's most important and prestigious crop. Follow the journey of the coffee bean from the moment it leaves the plantation until it becomes a cup of fresh delight.
A professional acting troupe, dressed in traditional garb, will escort you through an interactive tour on the history of coffee.
On the "finca", as the plantation is called in Spanish, your day starts in six acres (2.5 hectares) of coffee fields, tropical gardens and coffee-processing facilities. Stroll through a thriving farm as songbirds chirp from shade trees overhead. Learn the facts of coffee cultivation and take a few of the dried beans home to grow a plant of your own!
From the fields, continue to the roasting and packaging facilities, where you will breathe in the aroma of roasting coffee and learn all about the magical process that turns a red coffee cherry into a delicious cup of java. Then in the theater, sit back and watch a multimedia play and presentation of coffee's place in world history. Learn about how deeply coffee culture is woven into the history and people of Costa Rica.
The green highlands of Costa Rica's fertile Central Valley seem to jostle for attention as Britt experts lead the way with unmatched knowledge, plenty of good humor and more than a few surprises!
Finish your tour with a visit to the well-stocked coffee-and-gift store. There, if you choose, you may enjoy a delicious lunch of creative cuisine prepared with Costa Rica's freshest produce at the on-site Don Prospero restaurant. See if you can stump Britt's baristas by ordering any coffee drink you can imagine
Includes
         Transportation to and from San Jose Area
         Bilingual certified guides
         Fruit and snacks on the river
         Ice cold drinks
         Towels
         Lunch. (Photo service available on most trips)
Tour Info
         Tour Rates:$ 65 Per person  –  Minimum of 2 persons
         Transportation may stop at multiple hotels before or after your pickup and drop-off times.
         Duration:5 hours
         Schedule: Departs daily at 7:30am and 2 PM
         Requirements: No Minimum age
Private Tours
Private Tour Info
         Tour Rates: $ 65 Per person  –  Minimum of 2 persons
         Transportation Private Transportation can be arranged by our agents.
         Duration: 5 hours
         Schedule: Departs daily at 7:30 AM & 2 PM
         Requirements: No Minimum age
What to bring
         Fast drying clothing (surf shorts, outdoor hiking type synthetic clothes).
         Adventure sandals, tennis shoes or light hiking boots.
         Camera or video (we have individual dry bags).
         Change of clothes and towel.
         Sunscreen – Insect Repellant
480
true
dots
bottomright
300
true
true
800
none

To see all the other adventure tours that Bill Beard's operates in Costa Rica: CLICK HERE
Bill Beard's Costa Rica has privately escorted tours and first class accommodations  throughout the country that may be added to other packages.
We also offer world class adventure tours, scuba diving, surfing, sailing and fishing.
We arrange everything in advance, so you can relax and enjoy your vacation.
For single, triple, quad or group rates, contact our agents.
Our Reservation Office Is Located In La Fortuna, Costa Rica In The Shadow Of Arenal Volcano, behind the Catholic Church, Near The World Famous Hot Springs.
For Reservations & Information
Contact Our Office At 877 853-0538 or 954 453-5044 M – Sat., 9 – 9 ET
Britt Coffee Tour In Costa Rica