Caño Negro Wildlife Area Boat Tour
Caño Negro Wildlife Area Boat Tour – On an average day, you can expect to see 40 species of birds, sloth's, three types of monkeys, caimans, "Jesus Christ" lizards, bats, turtles, and iguanas!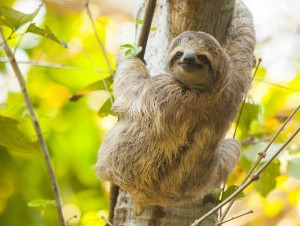 Caño Negro Wildlife Area by Boat
On an average day, you can expect to see 40 species of birds, sloth's, three types of monkeys, caimans, "Jesus Christ" lizards, bats, turtles, and iguanas! Located near the small town of Los Chiles, it's 3 miles from the Nicaraguan border. The tour begins with a 90 minute drive in our air-conditioned bus through some of Costa Rica's richest farmland. Following a 15-minute break in Los Chiles, you'll board a comfortable covered boat on the Rio Frio area where you and your guide will enjoy 2.5 to 3 hours through the Rio Frio and Caño Negro area to get up close glimpses of many animals. Tour includes lunch.
Overview:
The Caño Negro Wildlife Refuge together with Rio Frio is a biologically humid area, one of Costa Rica's richest areas of biological diversity. Here you can find a great variety of resident and migratory birds, three different species of monkeys, iguanas, sloths, turtles, and caimans.
The tour starts from the Arenal Volcano area at 7: 30 a.m. We will pick up all Nature Lovers from their hotels in a comfortable bus. It is a 1-½ hour drive to Los Chiles, a culturally mixed village that sits only 4-km from the Nicaraguan border. Here, the boat awaits our river adventure. The tour consists of a 4-hour floating safari through tropical rainforest, pastures, and marsh.  An experienced bilingual (Spanish-English) guide will lead the tour, and we will bring you back to the hotels about 4 to 4:30 pm.
Some birds are residents in the area, and it is possible to see hundreds of them, especially during the dry season.  There are Anhingas or Snake-birds (Anhinga anhinga), Wood Storks (Mycteria americana), and Roseate Spoonbills (Ajaia ajaja). It is possible to see the Spoonbills in small groups eating from the river surroundings. Jabirus (Jabiru mycteria) is the largest bird in Central America and very endangered. It can also be found in the Cano Negro area. The Olivaceous Cormorant (Palacrocorax olivaceus) makes its nest in Cano Negro, and it is the most populus bird in the refuge. Finally, Caño Negro has the largest colony of cormorants in all of Costa Rica.
Along the river, we can see howler monkeys (Alouata palliata), spider monkeys (Ateles geoffrogi), white-faced monkeys (Cebus capuccinus), three-toed sloth (Bradipus variegatus), reptiles such as the caimans (Caiman crocodilos), turtles, and Jesus Christ lizards (Basiliscus basiliscus) that walk on water!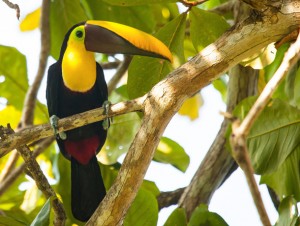 Includes
RT Transportation From/To your Arenal or Fortuna area Hotels. There is an additional charge for hotels outside La Fortuna area

Schedule: You are picked up at your hotel after an early breakfast, You return around 4:00 pm

Transportation

Entrance fees

Bilingual certified guides

Cold drinks

Lunch
Tour Info      

Duration Full Day tour
·         Rates: $85 Per Adult, Call for Child Rate ages 6 to 11   – Minimum of 2 persons – Rates Valid Until Dec 15, 2017
·         Non-Private Transportation may stop at multiple hotels before or after your pickup and drop-off times.
·         Tour Schedule: Daily Departures
What to bring
Comfortable shoes
Long pants
Rain Gear ( just in case)
Sun screen
Repellent
Camera or binoculars (if you choose)
ADD This tour to any hotel package or itinerary. More adventure tours available in this area of Costa Rica with Bill Beards
480
true
dots
bottomright
300
true
true
800
none

To see all the other adventure tours that Bill Beard's operates in Costa Rica: CLICK HERE
Bill Beard's Costa Rica has privately escorted tours and first class accommodations  throughout the country that may be added to other packages.
We also offer world class adventure tours, scuba diving, snorkeling, surfing, sailing and fishing.
We arrange everything in advance, so you can relax and enjoy your vacation.
For single, triple, quad or group rates, contact our agents.
Our Reservation Office Is Located In La Fortuna, Costa Rica In The Shadow Of Arenal Volcano, behind the Catholic Church, Near The World Famous Hot Springs.
For Reservations & Information
Contact Our Office At 877 853-0538 or 954 453-5044 M – Sat., 9 – 9 ET
Cano Negro Wildlife Area Boat Tour Costa Rica