CANOPY ZIP LINE AND ARENAL VOLCANO HOT SPRINGS COMBO
CANOPY ZIP LINE AND ARENAL VOLCANO HOT SPRINGS COMBO
Includes Lunch & Dinner
$235 Per Person (San Jose)
Tours Departing from San Jose or Puntarenas*
*Additional fees will apply for pick up in Puntarenas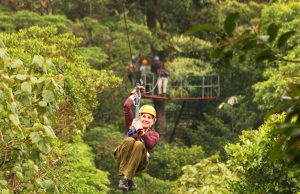 Set into the placid cloud forests of Costa Rica's Central Valley region, the San Luis canopy tour will take you on an exhilarating and safe adventure through lush, green canopy and across the majestic Rio Cataratitas. Carried securely by a system of zip lines, you will soar weightlessly through the expanse of virgin forest that grounds the tour, and find yourself in intimacy with the habitats of Costa Rica's distinct cloud forest wildlife. The San Luis canopy tour also presents the "Elevator," a thrilling feature that securely lifts visitors high above the forest canopy, granting a paramount view of the surrounding area.Though customer enjoyment is a central objective, San Luis canopy tour designates safety above all as a keystone principle: all personnel and facilities under their name carry up-to-date certification from the Costa Rica Institute of Tourism. San Luis canopy tour takes pride in their credentials and by them guarantees with confidence that this tour is among the most professional, informative, and enjoyable in Costa Rica.
Canopy with 12 different zip lines and 18 platforms, Tarzan swing trails and fly like superman.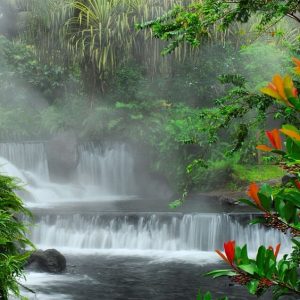 Later we will relax at the Tabacon Hot Springs. The perfect combination of volume, temperature and mineral content ( low sulfur content to prevent strong odors ) that is present in Tabacon Grand Spa Thermal Resort is unique in Costa Rica and worldwide. Water flows by gravity throughout the property, forming in-river pools, waterfalls, and cascades and filling in the pools throughout the resort. At the end you will be having a nice buffet dinner at Tabacon before returning to San Jose.
Sublimely beautiful Costa Rica has something for everyone. The treats range from exciting adventure to leisurely relaxation, and everything in between that we can add to your diving package. Furthermore, tourists can sample the laid-back national lifestyle that ticos (the name the Costa Ricans call themselves) refer to as 'Pura Vida' – 'pure life': no stress, no hassle. All this, combined with unsurpassed natural beauty and a developed and accommodating tourist industry, makes Costa Rica a wonderful place to visit and vacation.

See Our 23 Minute Video All About Costa Rica, Scuba Diving & Adventure: SEA HERE
To see all the adventure tours that Bill Beard's operates in Costa Rica: CLICK HERE
Bill Beard's Costa Rica has privately escorted tours and first class accommodations  throughout the country that may be added to other packages.
We also offer world class adventure tours, scuba diving, surfing, sailing and fishing.
We arrange everything in advance, so you can relax and enjoy your vacation.
For single, triple, quad or group rates, contact our agents.
Our Reservation Office Is Located In La Fortuna, Costa Rica In The Shadow Of Arenal Volcano, behind the Catholic Church, Near The World Famous Hot Springs.

For Reservations & Information

Contact Our Office At 877 853-0538 or 954 453-5044 M – Sat., 9 – 9 ET
Sign up for our Latest Newsletter & Adventure Travel Deals
Get Connected And Stay Up To Date With Bill Beard's
Like Us On Facebook
Follow Us On Twitter
Watch Us On YouTube
Connect On LinkedIn
Check Us Out On TripAdvisor
IMPORTANT NOTE – Please be advised that every reasonable effort has been made to keep all prices up to date and free of errors or omissions. Prices and policies from our vendors and the Costa Rican government are subject to change without notice. Invoices will be issued at the time of booking to confirm all final rates and offers.
CANOPY ZIP LINE AND ARENAL VOLCANO HOT SPRINGS COMBO