Celeste Mountain Lodge Costa Rica
The
Celeste Mountain Lodge Costa Rica
is one of the greenest, still untouched and off the beaten path areas of Costa Rica. This area includes the Volcan Tenorio National Park, boasting the astonishing Rio Celeste, the village of Bijagua and the Miravalles Volcano.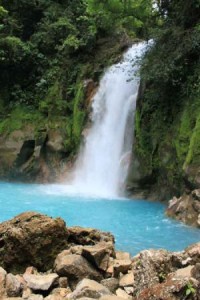 Yet
the Celeste Mountain Lodge Costa Rica is so conveniently accessible!
Softly laying over a mountain top surrounded by primary forest reserves and the National Park Volcan Tenorio, Celeste Mountain Lodge invites you to share the pristine nature environment, the unique contemporary design and ambiance, the Responsible Tourism philosophy, the most outstanding views of both the Tenorio and Miravalles volcanoes, delicious innovative Tica-fusion Cuisine, a private 2 km trail in pristine tropical jungle, all blended in efficient and family friendly service.
Accommodations
All rooms enjoy the same amazing south-west views on 2 volcanoes, rainforest, the valley down below the innovative gardens and breathtaking sunsets The 18 rooms are contained within one building, on two floors.
All rooms are similar in size (27 M2 / 291 SqFt) except 4 that boasts a larger bathroom ( 2 handicapped facilities).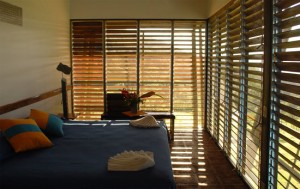 The only difference between rooms is the bedding configuration, some rooms accommodating 1 or 2 persons with Queen or King Size beds, some for 3 persons in either 1 Queen and 1 single or with 3 single beds, then others hosting up to 4 persons with 2 double beds.
The rooms are in minimalist style, decorated with eco-design furnishing such as the nightstand-lamps, and feature a wash basin, hairdryer, hot shower and toilet, cloth-hanging space and shelving.
At Celeste Mountain Lodge they believe that good eating must be part of an enriching travel experience.
Therefore, all 3 meals are included. Great value for your money!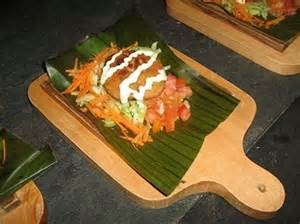 The Tico Fusion Cuisine, inspired from traditional recipes of the country or in a delicate blend of local ingredients and flavors, with the chefs own touch!
You are served a fixed menu at each meal, surprise of the day! You may stay several days; you will never eat the same thing twice.  Special diets are always available upon previous notice.
Lunch can be taken at the Lodge or as a delicious 100% eco Box-lunch.
Amenities
The Celeste Mountain Lodge offers:
18 rooms divided on 2 floors, all with awe-inspiring views, private bath, hot shower, design furnishing
1 Handicapped room with general access of the lodge
2 rooms for drivers & guides
Restaurant with panoramic view or onto interior gardens serving innovative "Tica-Fusion" cuisine. Menu examples
3 goumet meals a day included
Bar with panoramic terrace
Unique "Tropical Hot Bath" set amidst exuberant covered gardens (closed Sept. & Oct.)
Reading area opening to the covered gardens
Free Wi-Fi zone (by optic fiber)
Tours and excursions in the region including the Rio Celeste
Private 2 km trail in primary rainforest greatly built for easy access.
Availability of the "Joelette", a special porter seat for people with reduced mobility, for touring places these persons would never have dreamed of. (The Joelette is is a one person seat mounted on one wheel, all-terrain, that requires 2 handlers, opening the way to people with
reduced mobility to places of difficult access)
Here are the adventure tours at Arenal Volcano that Bill Beard's offers daily.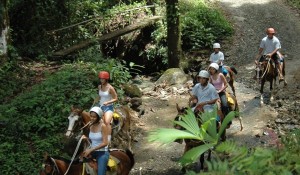 Adventure tours that Bill Beard's operates throughout Costa Rica: LEARN MORE
Bill Beard's Costa Rica has privately escorted tours and first class accommodations  throughout the country that may be added to other packages.
We also offer world class adventure tours, scuba diving, snorkeling, surfing, sailing and fishing.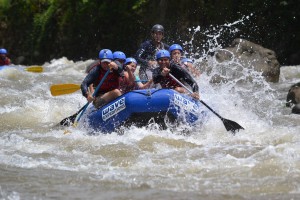 We arrange everything in advance, so you can relax and enjoy your vacation.
For single, triple, quad or group rates, contact our agents.
Our Reservation Office Is Located In La Fortuna, Costa Rica In The Shadow Of Arenal Volcano, behind the Catholic Church, Near The World Famous Hot Springs.
480
true
dots
bottomright
300
true
true
800
none

For Reservations & Information
Contact Our Office At 877 853-0538 or 954 453-5044 M – Sat., 9 – 9 ET

Sign up for our Latest Newsletter & Adventure Travel Vacations
Celeste Mountain Lodge Costa Rica