Corcovado National Park Guided Tours
Corcovado National Park Guided Tours
The first tour,  San Pedrillo Ranger Station, is close by, situated just 20-30 minutes by boat from
Drake's Bay, Corcovado National Park is world reknown for its rich diversity and spectacular scenery.

The first tour,  San Pedrillo Ranger Station, is close by, situated just 20-30 minutes by boat from Drake's Bay, Corcovado National Park is world reknown for its rich diversity and spectacular scenery. The cost is $95.00. The Corcovado's Sirena Ranger Station is one hour by boat and cost $135.00 and puts you in the center of the park. There is a four person minimum.

Your San Pedrillo Ranger Station Corcovado tour begins with a visit to San Pedrillo which is the Park's northern most ranger station. From here your guide will lead you up into the dense jungle comprised of primary and secondary forest, during which time you'll be introduced to some of the more interesting aspects of the Park's natural surroundings. The trails themselves are clearly marked and easy to navigate, ascending and descending through the verdant rainforest. One particular trail leads to a large waterfall, ideal for photos and/or bathing.
The second tour we offer is our favorite and may well be the highlight of your time in the Osa peninsula. This tour is to the Corcovado's Sirena Ranger Station. This ranger station is also located along the Pacific coast, but further south in the middle of the Park. The boat ride to Sirena from the hotel takes approximately one hour, well worth it for anybody who wants to see the Park's interior. There are several trails that surround the ranger station, some of which offers visitors to the Park with the best opportunites to observe wildlife. While not always visible, common sightings at either of the ranger stations include scarlet macaws, monkeys, (white face, howler, spider & squirrel) pecaries, iguanas, sloths, lizards, and a wide variety of plants, amphibians and insects.
The third option (also to La Sirena station) – VIP Tour / Corcovado National Park Private VIP Tour — by Plane – Sirena Station

Landing strip Sirena Ranger Station Corcovado Costa RicaThe day starts with breakfast at 6:30 AM, then departure from the hotel at 7:00 to head by boat to the town beach (wet landing). It's a short drive to the Drake Bay airport for the flight to Sirena Station. From the plane's windows, you'll see an extraordinary aerial showcase of pristine, emerald green rainforest, cobalt blue ocean water, and golden sand beaches of this cherished part of Costa Rica's natural heritage. The flight path covers the majority of the Park and includes a flyover of the Corcovado Lagoon. Upon arrival to the park, your Certified Greentique Guide will lead you through trails of primary and secondary rainforest offering a truly remarkable abundance and variety of wildlife. Corcovado is the only National Park that is home to all four species of Costa Rica's monkeys. There are also huge crocodiles, tapirs, anteaters, sloths, a veritable riot of colorful tropical birds, plus reptiles, amphibians, and mammals and more species of plants and trees than you can imagine. Exotic cats, including Jaguars and Puma prowl the forest and beaches, but these and other cats are mostly nocturnal, so please know that daytime sighting are extremely rare. After your morning hike you'll stop for a delicious picnic lunch then rest a bit. Upon leaving for your afternoon hike your guide will then take more of the forest trails pointing out the amazing flora and fauna of one the most biologically intense places on earth. After your afternoon hike you'll board your plane for the return flight back to Drake Bay.
Includes: Greentique Certified Guide, boat and car transportation, park fees, airplane flight, and picnic lunch
Departure Time/Place: Breakfast at 6:30 AM in The Great Room, depart from the dock at 7:00 AM
Duration: 7 hours
Ages: 6+
Activity level: Easy to Moderate
Recommend: Hiking shoes/sneakers/trail shoes, short pants and bathing suit, plus shoes/clothes for a wet landing (hiking sandals recommended), lightweight waterproof jacket, hat, water bottle, camera, binoculars
Cost: $1,250 total for up to 4 people
We recommend that you bring sunscreen, sunglasses, hat, bug repellent, binoculars, bathing suit and most importantly hiking shoes. While hiking along the trails you'll find yourself crossing streams/rivers, in addition to traversing across slippery, sloping terrain. Sandals are not recommended for the hiking portion of the tour.
Corcovado National Paek Guided Tours includes lunch and soft drinks, which are served at the end of the hikes. Shortly thereafter you'll board the boat and return to Drake's Bay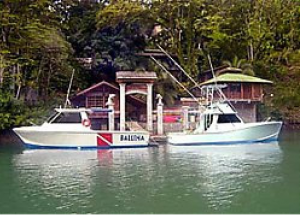 SAN PEDRILLO STATION
$95 Per Person
$95.00 pp San Pedrillo Ranger Station Minimum 2 People 6 Hours
LA SIRENA STATION
$135 Per Person
$135.00 pp San Pedrillo Ranger Station Minimum 4 People 6 Hours
Includes
         Transportation to and from Drake's Bay Area

         Bilingual certified guides

         Fruit and snacks on the river

         Ice cold drinks

         Towels

         Lunch. (Photo service available on most trips)
Tour Info
         Tour Rates:$95 – $135 –  Minimum of 2 – 4 persons

         Transportation may stop at multiple hotels before or after your pickup and drop-off times.

         Duration: 6 hours

         Schedule: Departs daily at 7:30am and returns at 1:30 PM

         Requirements: No Minimum age
Private Tour Info
Private Tour Info
         Tour Rates: $95 –  135 Per person  –  Minimum of 2 – 4 persons

         Transportation Private Transportation can be arranged by our agents.

         Duration: 6 hours

         Schedule: Departs 7:30 AM

         Requirements: No Minimum age
What to bring
         Fast drying clothing (surf shorts, outdoor hiking type synthetic clothes).

         Tennis shoes or light hiking boots.

         Camera or video (we have individual dry bags).

         Change of clothes and towel.

         Sunscreen – Insect Repellant
480
true
dots
bottomright
300
true
true
800
none

To see all the other adventure tours that Bill Beard's operates in Costa Rica: CLICK HERE
Bill Beard's Costa Rica has privately escorted tours and first class accommodations  throughout the country that may be added to other packages.
We also offer world class adventure tours, scuba diving, snorkeling, surfing, sailing and fishing.
We arrange everything in advance, so you can relax and enjoy your vacation.
For single, triple, quad or group rates, contact our agents.
Our Reservation Office Is Located In La Fortuna, Costa Rica In The Shadow Of Arenal Volcano, behind the Catholic Church, Near The World Famous Hot Springs.
For Reservations & Information
Contact Our Office At 877 853-0538 or 954 453-5044 M – Sat., 9 – 9 ET
Corcovado National Park Guided Tours Costa Rica with Bill Beard's