Costa Rica Driving Tips & Highway Signs
Costa Rica Driving at your own pace. Visit national parks, rainforest, volcanoes and all the adventure activities you wish. You can do this.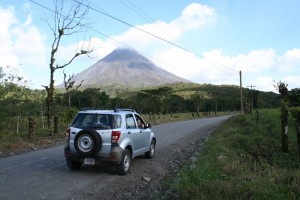 It's a wonderful way to spend a family or friends vacation in Costa Rica. All you need is a U. S., Canada, or other countries drivers license, a major credit card & your passport.
Driving Tips:
Drive slow and cautious, it is not a race. You are there to soak in the scenary, so take your time.
Night driving is not recommended. Watch for other drivers who may have been drinking. The roads are not well lighted which hampers the ability to see potholes and drop-offs without guardrails.
Highway construction:Tthe Ticos(Costa Ricans) version of highway cones could be a branch or pile of sticks in the road. Slow down and be cautious.
Valuables: Never leave valuables in your car,  this goes for any place you travel. The trunk is not a safe place as well.
Speeding: Watch your speed, you can expect to see radar guns. Speed limits are enforced. A kilometer is .62 of a mile per hour.  70 kilometers is 43mph.
Directions: Do not be hesitant to ask for directions. In Spanish it is "Donde es", where is it. Costa Ricans are extremely helpful.
Costa Rica Driving & Highway Signs:
Let us help ease your fears about driving in Costa Rica!  You may be worried that you won't understand the road signs, although most are pretty self-explanatory as they have symbols or pictures!  Here are a few of the most common to help you on your way:
Alto: "STOP" In CR they view this as pause rather than stop, be aware.
Peligroso: "DANGER" proceed with caution, slow down.
Ceda El Paso: "YIELD"
Puente Solo Carrill:  "ONE LANE BRIDGE"
No Hay Paso: "DO NOT ENTER" or "ONE WAY"
Carreta en Mal Estado: "ROAD IN BAD CONDITION'
Despacio: "SLOW"
No Estacionar: "NO PARKING'
Curva Adelante: "CURVE AHEAD"
Cuidado: "USE CAUTION"
Velocidad: (VELOCITY) speed.  Remember this is in kilometers per hour and not miles!  There are 1.6 kilometers to a mile. (90 KM PH is 55.9 MPH)
These are actual photos of the most common signs we see along the highway. As you can see they are very simple and self explantory so you will not have any trouble with road signs.
See our NEW HD VIDEO on Costa Rica scuba diving and adventure.
Call our office and we'll be happy to help you decide what type of car is best for you. Our agents can set up the all inclusive or al a carte vacation package and itinerary you want throughout the country.
Our Reservation Office Is Located In La Fortuna, Costa Rica In The Shadow Of Arenal Volcano, Behind The Catholic Church, Near The World Famous Hot Springs.
For Reservations & Information
Contact Our Office At 877 853-0538 or 954 453-5044 M – Sat., 9 – 9 ET

Sign up for our Latest Newsletter & Adventure Travel Deals
Costa Rica Driving Tips & Road Signs