DEMA 2015 Orlando November 4
DEMA 2015 Orlando November 4 – 7 Convention Center with Bill Beard's Costa Rica.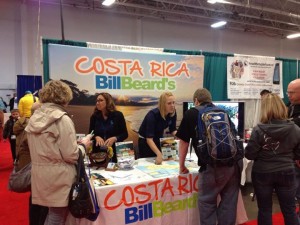 Dates: Wednesday, November 4 – Saturday, November 7, 2015
Location: Orange County Convention Center, South Concourse
9899 International Drive, Orlando, FL 32819
Bill Beard's Costa Rica Will Be In Booth # 1631 with lots of DEMA travel & group specials.
SEMINAR: Costa Rica Scuba Diving & Adventure With Bill Beard. Friday
Nov. 6th 4 PM Room S310H – New Presentation – Q & A, Lots Of Door
Prizes Including Vacation Dive Packages. Come by and meet the staff. Let's
make a sit down appointment now for 2016 & 2017 individual &
group trips. Phone 954 453-5044, e mail agent@billbeardcostarica.com
We have special packages for individuals, groups, families, dive shops, clubs and wholesalers. We help you make money. Talk to us about our free diver program, how to get a free day of diving for your group & commissions. We work with and protect all dive travel wholesalers, just tell them to book Bill Beard's Costa Rica. Sample Dive Package: LEARN MORE
Costa Rica has world class diving in the Pacific Ocean. It is the closest Pacific diving from the U.S. North East, East Coast, South & South West. Flying time from Miami 2 Hrs 20 minutes, New York, 4 Hours. There are many non-stop flights including JFK, Newark, Washington, D.C., Philadelphia, Charlotte, Atlanta, Orlando, Miami, Houston, Dallas, Denver, St. Paul & more. Call our office for more. We can book your air if you wish.
August 15th began our 46th year in Costa Rica operating scuba diving & adventure tours combined in a vacation package that can include scuba diving, air, transportation, accommodations and all the adventure activities you can handle.
Costa Rica is a very popular destination, less expensive than most, great value and an easy sell. Let us help you offer Costa Rica to your clients. We are happy to customize your package to suit your needs. You may add all or as many activities you wish to your itinerary and our service is free to you. Here is a list of our scuba diving vacation packages: LEARN MORE
To See A 23 Minute On Costa Rica All About Costa Rica, Scuba Diving & Adventure: CLICK HERE
We offer daily tours from any hotel in the Pacific Ocean diving area: LEARN MORE

468
true
dots
bottomright
264
true
true
800
none

To see all the other adventure tours that Bill Beard's operates in Costa Rica: CLICK HERE
Bill Beard's Costa Rica has privately escorted tours and first class accommodations throughout the country that may be added to other packages.
We also offer world class adventure tours, scuba diving, snorkeling, surfing & classes, sailing and fishing.
We arrange everything in advance, so you can relax and enjoy your vacation.
LEARN MORE
about
Costa Rica Hotels & Resorts
we use.
For single, triple, quad or group rates, contact our agents.
Our Reservation Office Is Located In La Fortuna, Costa Rica In The Shadow Of Arenal Volcano, behind the Catholic Church, Near The World Famous Hot Springs.
For Reservations & Information
Contact Our Office At 877 853-0538 or 954 453-5044 M – Sat., 9 – 9 ET
Sign up for our Latest Newsletter & Adventure Travel Deals
Read Our Reviews on Trip Advisor…or Write One of Your Own