Ecological Sanctuary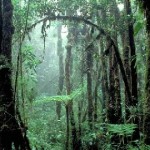 The Ecological Sanctuary is a Wild life Refuge.  It is located in Cerro Plano and it is administrated by a Costa Rican family that offer hikes on sort and long trails through forest with beautiful views, two big waterfalls, coffee and banana plantations, and the opportunity of finding bird species and many mammal species such as coatis, agoutis, porcupines, sloths and many more.
The sanctuary was created in 1992 with the idea of conserving 30 hectares of forest located in the Pacific slope of Monteverde, because it is a place with primary and secondary forest in transition it as a great biodiversity of plants and animals.
The present activity of the farm is Eco-tourism, with the fee to enter the place is maintained, and conservation projects are hold with the purpose to preserve and regenerate the forest and that way live in harmony with nature.
Monteverde is a Costa Rican treasure and the more you visit, the more you think you have discovered the end of the rainbow and the pot of gold.
What to bring
Comfortable walking shoes
Binoculars, camera.
Sweater.
Insect Repellent
Bottle of water
Rain Coat or poncho
To see all the other adventure tours that Bill Beard's operates in Costa Rica: CLICK HERE
Bill Beard's Costa Rica has privately escorted tours and first class accommodations  throughout the country that may be added to other packages.
We also offer world class adventure tours, scuba diving, snorkeling, surfing, sailing and fishing.
We arrange everything in advance, so you can relax and enjoy your vacation.
For single, triple, quad or group rates, contact our agents.
Our Reservation Office Is Located In La Fortuna, Costa Rica In The Shadow Of Arenal Volcano, behind the Catholic Church, Near The World Famous Hot Springs.
For Reservations & Information
Contact Our Office At 877 853-0538 or 954 453-5044 M – Sat., 9 – 9 ET
Ecological Sanctuary Monteverde Costa Rica
Bill Beard
Bill Beard is the true pioneer of scuba diving in Costa Rica, started diving from dug out canoes in 1970. Bill Beard's Travel specializes in individual, group, honeymoon, family vacation packages, scuba diving, snorkeling, sailing, surfing and adventure tours. Our attention to detail defines us.