Finca Rosa Blanca Resort In Costa Rica
Finca Rosa Blanca Resort In Costa Rica. The Finca Rosa Blanca Resort is a coffee farm plantation and luxurious inn that crowns the central valley mountain highlands of Costa Rica. Located only a short distance from the San Jose International Airport, it has long offered eco-travelers a luxurious, sustainable boutique hotel experience.
For a certain set of luxury travelers, personality is king. Sure, we love the consistency of the big brands (and companies like Four Seasons and Mandarin Oriental almost always knock it out of the park), but sometimes we crave quirkiness. We want to feel human fingerprints on the places where we slip into bed. We want to feel transported—to a distinctive place, to someone else's creative vision for bringing beauty to the world.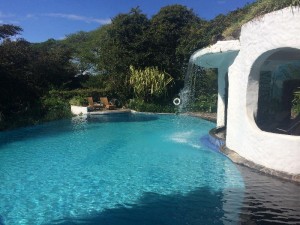 Finca Rosa Blanca is one of those places. Just 20 minutes from the international airport in San José, it's an ideal first or last stop for a trip to the coast or the cloud forest or the volcanoes, but it's also a destination in its own right.
The hotel was born some 30 years ago, when American artists Glenn and Teri Jampol fell in love with inland Costa Rica. With Glenn's mother, they were inspired to build a family home in the highlands. Soon after, bowing to financial realities, they began renting rooms to pay for their Central American investment. What began as a hacienda with eight rooms has grown into a 14-room boutique eco hotel that breaks the mold in the best possible of ways. Glenn still describes it as a giant art project and as a sculpture. (Disclosure: I stayed as a guest of the owners.)
That's because his paintings are in many of the rooms and public spaces, and he and Teri curated all the art and furnishings throughout the hotel. Each room has personality in spades, with murals on the walls and artwork over the archways. The layout is rambling—you'll probably get lost at least once on your way to your room—but the wandering brings its own rewards. (Try to stumble upon the saltwater swimming pool, with its soothing waterfall and tropical reflections.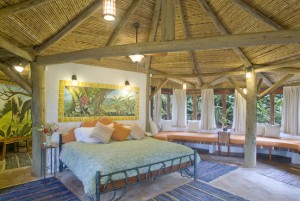 And in this case, the eco bona fides are real. Finca Rosa Blanca is a member of the well-regarded Cayuga Collection of Central American hotels, which has built its brand on proving that luxurious and green are not incompatible. Glenn Jampol was the president of CANAECO (the National Association of Ecotourism in Costa Rica) for seven years, and frequently consults or speaks in destinations as far-flung as Sri Lanka, Jordan, Bhutan, Australia, Peru, Norway, Colombia and Canada.
When the Jampols learned that the coffee plantation across the street from their hotel was up for sale, they were spurred to take action. Out of concern that the land would be developed, they bought it themselves and set about reinvigorating it as a coffee plantation. Now the 35-acre shade-grown plantation produces some of the finest beans in Costa Rica, and all guests are encouraged to take a coffee tour and do a cupping with a smart, enthusiastic guide. My traveling companion, a San Francisco coffee hound, discovered she could do without milk and sugar here.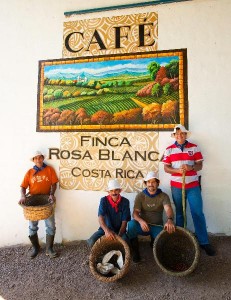 But for all the sustainability points that the hotel earns, there's no sanctimony. The rooms are sexy, all with private verandas, the small spa is indulgent, and the restaurant is outstanding. Newly installed chef Gustavo Alvarado recently moved back to his native Costa Rica after more than 17 years of culinary and management experience at five-star resorts in the U.S. The open-air dining room is lovely, but a meal of tasting places at the chef's counter in the indoor kitchen is one of those only-here experiences that linger in travelers' memory long after they check out.
Rooms
Finca Rosa Blanca is not only a coffee plantation, its also an architectural destination and a central hub to a multitude of activities and sightseeing. The most common regret from our guests over the past 20 years is that they wished they had stayed at least 3 or 4 days.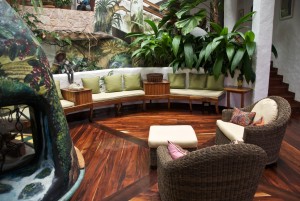 Your stay at the hotel includes:
A full a la carte breakfast
One complimentary tour: Green Behind the Scenes
Daily complimentary afternoon coffee with cookies
Free local and international calls from your room
Complimentary Wi-Fi throughout the property
The standard in-room amenities for all 14 of our luxurious accommodations include:
King size bed with 1000-thread count, bamboo and cotton linens.
Ceiling fans.
Spacious bathrooms, with beautiful showers and many rooms also have bathtubs and Jacuzzis.
Locally made, organic soaps, lotions and shampoos.
Hair dryer
Iron and Ironing board
Complimentary WiFi.
Free local & international calls to Canada and USA.
Coffee maker and complimentary Finca Rosa Blanca shade grown organic coffee.
Mini bar.
Laptop-sized safe.
Daily maid service.
Turn-down service.
Private outdoor deck or patio.
Robes & Slippers.
Note From Finca Rosa Blanca:
We would like you to know that 10% of our profits from the restaurant and bar go to support environmental projects in our community schools and to buy the food to provide over 75 daily hot meals at the Barrio Jesus Children's Food Bank.
We grow most of our own vegetables, fruit and herbs in our green house and gardens and our eggs are organic and freshly laid by our 20 chickens. Our coffee is organic and grown, processed and roasted on site.
Our food is fresh from the market and almost exclusively bought from small organic and local independent farmers or local merchants.
We buy organic or biodynamic food whenever possible and every item is home made in our kitchen or in the community
We use seasonal fruit and vegetables and all of our ingredients are either bought locally or are native to Costa Rica.
We recycle all organic waste into compost, and recycle or reuse bottles, cans, paper and glass.
We only use biodegradable cleaning products and we monitor our energy use and constantly try to reduce it.
Our culinary emphasis is on Legacy Dining- celebrating Costa Rican and Central American Cuisine; recipes which have been lost or disregarded or only encountered in a typical family kitchen as well as new fusion recipes using seasonal and national ingredients.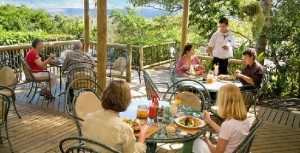 El Tigre Vestido & Bar Búhoare located in the hills of Santa Barbara de Heredia, where amazing views of the Central Valley can be admired from the expansive decks surrounded by beautiful gardens and coffee plantations. Each morning we prepare exquisite breakfasts, replete with freshly brewed organic coffee grown in our farm, and succulent fresh fruit and vegetables from the restaurant's own organic gardens and orchards. The finca raises free-range chickens to provide you with fresh eggs daily.
Enjoy the Latin Fusion cuisine for all of your meals, cooked with fresh ingredients that bring alive traditional Costa Rican and Central American dishes. The elegant dinners are set around the inviting fireplace or on the open air terrace with twinkling lights that illuminate the Central Valley below.
Plan to spend a few days in San Jose taking in the sights and sounds of the capitol city: LEARN MORE
468
true
dots
bottomright
264
true
true
800
none

To see all the adventure tours that Bill Beard's operates in Costa Rica: CLICK HERE
Bill Beard's Costa Rica has privately escorted tours and first class accommodations  throughout the country that may be added to other packages.
We also offer world class adventure tours, scuba diving, snorkeling, surfing, sailing and fishing.
We arrange everything in advance, so you can relax and enjoy your vacation.
For single, triple, quad or group rates, contact our agents.
Our Reservation Office Is Located In La Fortuna, Costa Rica In The Shadow Of Arenal Volcano, behind the Catholic Church, Near The World Famous Hot Springs.
For Reservations & Information
Contact Our Office At 877 853-0538 or 954 453-5044 M – Sat., 9 – 9 ET
Sign up for our Latest Newsletter & Adventure Travel Deals
Plant A Tree With Us And Erase Your Carbon Footprint
Finca Rosa Blanca Resort In Costa Rica