Flamingo Marina Hotel
Flamingo Marina Hotel is perched on top of a lush hillside overlooking the Pacific Ocean, the Catalina Islands and the world famous scuba diving sites that are just 15 minutes away on one of the three custom dive boats. You just walk down a flight of stairs directly to the beach.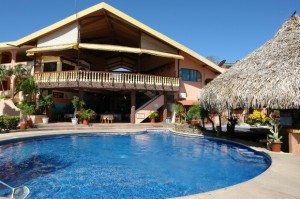 In addition to soothing tropical breezes, breathtaking sunrises and unsurpassed tranquility, its unique vantage point offers guests a spectacular bird's-eye view of one of the largest marinas located along the Pacific coast of Central America. What's more, it is just steps away from one of the most expansive and unspoiled stretches of white-sand beach found anywhere in Costa Rica.
Whether you`re a budget-conscious traveler or one who prefers to be surrounded by all the luxuries of home, Flamingo Marina Hotel offers a choice of quality accommodations that cater to your needs. All of which are spacious, comfortable and tastefully appointed. In the main facility, there are 2 options: the Deluxe Room and the Sportsman`s Suite. The 2 include air conditioning, ceiling fans, safety deposit box, satellite TV, telephone, mini-bar service, private bath complete with hot shower and a terrace/balcony overlooking the ocean. The Deluxe is also furnished with 2 double beds and the Sportsman`s Suite offers a choice of 1 king size bed or 2 double beds. In addition, the large terrace/balcony in the Sportsman`s Suites features a private Jacuzzi, cozi rattan furnishings and a well-equipped bar/kitchenette for entertaining.
Also on the premises but separate from the main facility are 3 additional options: The Beach Apartment of 1 bedroom or 2 bedroom and the Luxury Beach Apartment. While all options feature practically all of the same amenities found in the other 2, these are even more luxurious. The 2 Bedroom Beach Apartment for instance, has a full bath, kitchen, living room, dining room and 2 separate bedrooms each furnished with a queen size bed. The Luxury Apartment is much the same but offers the added convenience of 2 full baths plus a queen size bed in the 1 bedroom and 2 single beds in the other. The Resort is perfectly situated to allow guest to take advantage of the many wonders unique to the province of Guanacaste.
From the marina below, they can board a fully equipped dive or fishing boat to take them to the Catalina Islands just 15 minutes away from Flamingo Marina Hotel. The Catalina Islands are a favorite site for observing giant Pacific manta rays, thousands of cow nose rays and schooling jacks, you will have King Angel and surgeon fish brushing against you, and an incredible variety of other underwater creatures like frog fish, harlequin clown shrimp and sea horses. The teeming waters of Flamingo also offer some of the world`s best sport fishing, boasting several world records in Marlin, Wahoo, Sailfish and Roosterfish. Not surprising, the Flamingo area is consistently chosen as the site of the International Sport Fishing Tournament. A Virtual paradise for water enthusiasts of all kinds, the crystal blue waters and sandy white beaches surrounding Flamingo are also ideal for snorkeling, surfing and kayaking. Back on dry land, trekking enthusiasts can head for the hills, mangroves and estuaries scattered throughout the local area to observe the incredible diversity of the flora and fauna found there including thousands of species of plants, birds, butterflies, insects, reptiles and mammals.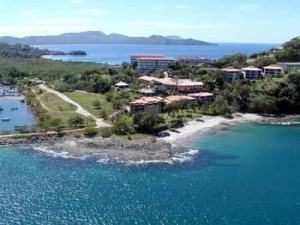 Because Playa Flamingo is just one hour`s drive from seven of Costa Ricas`s National Parks and Wildlife Reserves, guests can also embark on day-tripping excursions with Bill Beard's to explore the natural treasures located in their midsts including active volcanoes,hot springs, mud pots, sulfur springs, caves, waterfalls, lakes, tropical forests, their exotic inhabitants and much, much more. And if all of that doesn't provide enough greenery, there are also two world-class 18-holes golf courses located just minutes away from the Resort.
To see the adventure tours Bill Beard's offers daily from this hotel: CLICK HERE
480
true
dots
bottomright
300
true
true
800
none

To see all the adventure tours that Bill Beard's operates in Costa Rica: CLICK HERE
Bill Beard's Costa Rica has privately escorted tours and first class accommodations  throughout the country that may be added to other packages.
We also offer world class adventure tours, scuba diving, surfing, sailing and fishing.
We arrange everything in advance, so you can relax and enjoy your vacation.
To see the dive sites available from this resort: CLICK HERE
For single, triple, quad or group rates, contact our agents.
Our Reservation Office Is Located In La Fortuna, Costa Rica In The Shadow Of Arenal Volcano, Near The World Famous Hot Springs.
For Reservations & Information
Contact Our Office At 877 853-0538 or 954 453-5044 M – Sat., 9 – 9 ET
Flamingo Marina Hotel Costa Rica