Frog Pond Monteverde Tour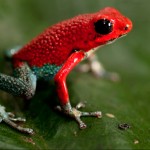 Frog Pond Monteverde Tour
The Monteverde Frog Pond is managed by a Group of biologists, natural guides, and conservationists, and this is much more than an amphibian zoo, it provides education and the opportunity to meet and exchange our attitudes towards animals.
The Monteverde Frog Pond built terrariums simulating the natural habitats of each specie allowing the frogs to live and reproduce and at the same time let us admire they wonderful colors.
After the guided tour around the terrariums, you can calmly walk around the frog exhibition and natural history.
In the herpetarium you can admire over twenty-eight species of frogs and toads, and find many species that are unique of the tropics of Costa Rica, like the Blue-Jeans poisonous frog or the Red-Eyed frog.
Frog Pond Monteverde Tour is under roof and is an excellent option for a rainy day. If rain is the case it will also be a good time to visit the Monteverde Cheese Factory that was founded by the Quakers in the 50's. You may sample the cheese and the delicious ice cream and there is a small restaurant if you would like to enjoy lunch. Another indoor option for lunch is the chocolate factory.

Includes:
Entrance fee
Tour with a bilingual naturalist guide
Transportation
Tour Info
Average Time: 1.5 hours
Frog Pond Schedule: From 9:00am to 8:30pm
Rates: $45 Adults, Children Under 3, Free
What to bring
Comfortable walking shoes
Long pants.
Camera.
Insect Repellent
Bottle of water.
328
true
dots
bottomright
201
true
true
800
none

To see all the other adventure tours that Bill Beard's operates in Costa Rica: CLICK HERE
Bill Beard's Costa Rica has privately escorted tours and first class accommodations  throughout the country that may be added to other packages.
We also offer world class adventure tours, scuba diving, snorkeling, surfing, sailing and fishing.
We arrange everything in advance, so you can relax and enjoy your vacation.
For single, triple, quad or group rates, contact our agents.
Our Reservation Office Is Located In La Fortuna, Costa Rica In The Shadow Of Arenal Volcano, behind the Catholic Church, Near The World Famous Hot Springs.
For Reservations & Information
Contact Our Office At 877 853-0538 or 954 453-5044 M – Sat., 9 – 9 ET
Frog Pond Monteverde Tour Costa Rica
Bill Beard
Bill Beard is the true pioneer of scuba diving in Costa Rica, started diving from dug out canoes in 1970. Bill Beard's Travel specializes in individual, group, honeymoon, family vacation packages, scuba diving, snorkeling, sailing, surfing and adventure tours. Our attention to detail defines us.