Half Day Tour Canyoning Rappelling
Half Day Tour Canyoning Rappelling: There are 4 rappels, 3 of which are along side or right in waterfalls, and one dry rock face. From the first waterfall you will rappel down from the top into the beautiful and pristine canyon below –
NOTE: New Addition: The newest addition to half day tour canyoning rappelling is The Monkey Drop and Rock Climb. After rappelling down the first waterfall 165 feet you climb up the side of the canyon wall 20 feet to a short trail. Then you zip line across the canyon and rappel down the cable 82 feet to the canyon floor. The monkey drop and rock climb is added to the 4 rappels that include 3 waterfalls and a delicious hot lunch. (This is a delightful addition to this adrenalin packed tour and as always is kid and family friendly.)

Canyoning-Rappelling through Waterfalls   
Come experience the Magic of the Rainforest!
Half Day Tour Canyoning Rappelling begins with a short 4×4 drive into the tropical rainforest outside the town of La Fortuna, in the shadow of the Arenal Volcano. After leaving base camp, it is just a short drive to the turn off and then the bumpy ride to the canyon begins (approx 20 min drive).
You will trek through the forest on magical trails that lead to some of the most spectacular waterfalls in Costa Rica, a place few people get to experience. Along the way we will have the chance to discover the secrets that lie hidden deep within the canyon.
Experienced Canyoning-Rappelling Guides will carry equipment to the starting point so you use the restroom one more time before the guides start to gear you up in shaded comfort.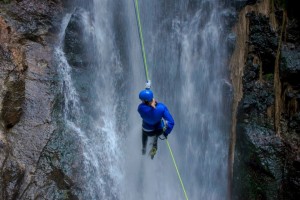 No easy, gentle start here.  The first drop is a doozy!!  165 Feet to the bottom of the canyon. After the first rappel you will be ready for anything.  So prepare to get WET.  You will swear this must be some version of Costa Rican Wet T-Shirt contest!
At the end of the tour, you will hike about 15 minutes up the canyon.  What goes down, must come back up… There vehicles wait to take you back to the base camp and a hot lunch and cool refreshing tropical fruit drink.
CD with photos of your Canyoning tour and bonus wildlife shots are available at the end of the tour ($25), and you'll be sure to want a T-Shirt to wear to remind you of all the fun you had.  After lunch, you will be driven back to your Arenal or Fortuna area Hotel.
Includes
RT Transportation From/To your Arenal or Fortuna area Hotels, There is an additional charge for hotels outside La Fortuna area
Canyoning Tour through the canyons and waterfalls
Experienced, Friendly Canyoning Guides
Rappelling Equipment, Vest & Helmet
Waterproof pullovers are available for those who chill easily
Lunch at Base Camp
Tour Info
Tour Rates $101 Per Person Nov. 16, 2014 to November 15th 2015
Transportation may stop at multiple hotels before or after your pickup and drop-off times.
Duration: 5 hours
Schedule: Departures at 7:15 AM or 12 PM
Private Tours
Private Tour Info
Tour Rates: Please Call for Rates
What to bring
Go dressed ready to hike and to get WET.
Be sure to TEVAs or old tennis shoes – something that is sure to stay on your feet.
Have bathing suit underneath your clothes and bring a bag to leave dry clothes in – guides will keep this bag at base camp while you are rafting)
Bring Comb, TOWEL, and other Toiletries with you in bag to leave with guides
Sunscreen, insect repellent
T-Shirt of Long-Sleeved shirt to prevent sunburn
Waterproof Camera with lanyard that you can attach to your vest (or camera in small Pelican Case works well)
Do NOT bring anything that you do not want to get WET
For more exciting adventure tours in the La Fortuna Arenal Volcano area with Bill Beard's: CLICK HERE
To see all the adventure tours that Bill Beard's operates in Costa Rica: CLICK HERE
Sublimely beautiful Costa Rica has something for everyone. The treats range from exciting adventure to leisurely relaxation, and everything in between that we can add to any vacation package. Furthermore, tourists can sample the laid-back national lifestyle that ticos (the name the Costa Ricans call themselves) refer to as 'Pura Vida' – 'pure life': no stress, no hassle. All this, combined with unsurpassed natural beauty and a developed and accommodating tourist industry, makes Costa Rica a wonderful place to visit and vacation.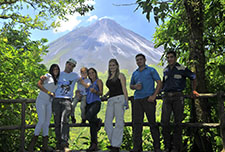 Our agents can set up the all inclusive or al a carte vacation package and itinerary you want throughout the country.
See Our 23 Minute Video All About Costa Rica, Scuba Diving & Adventure: SEA HERE

Our Reservation Office Is Located In La Fortuna, Costa Rica In The Shadow Of Arenal Volcano, behind the Catholic Church, Near The World Famous Hot Springs.
For Reservations & Information

Contact Our Office At 877 853-0538 or 954 453-5044 M – Sat., 9 – 9 ET
Sign up for our Latest Newsletter & Adventure Travel Deals
Get Connected And Stay Up To Date With Bill Beard's
Like Us On Facebook
Follow Us On Twitter
Watch Us On YouTube
Connect On LinkedIn
Check Us Out On TripAdvisor
IMPORTANT NOTE – Please be advised that every reasonable effort has been made to keep all prices up to date and free of errors or omissions. Prices and policies from our vendors and the Costa Rican government are subject to change without notice. Invoices will be issued at the time of booking to confirm all final rates and offers.