Half Day Tour Sky Tram Sky Trek
Half Day Tour Sky Tram Sky Trek – To experience the great adventure of the Sky Trek, you must first ride on the Sky Tram to reach the highest point of the Arenal Reserve.
Only then can you begin the adrenalin-filled adventure as you soar over the treetops.
Arenal & La Fortuna Hotels – Pick up Time Approx one hour before chosen tour time (Non-Private). Drive time to start of tour approx 15-20 mins. Equipment fitting and instruction by professional guides.
Sky Trek consists of a zip line system that shows you the Arenal rain forest and its landscape from a unique vantage point using a safe and innovative system.
The Sky Trek starts with a tour on the Sky Tram to reach the top of the Arenal reserve.  From here you will enjoy a phenomenal vantage point of Arenal Volcano, Lake Arenal, Fortuna and the surrounding area.
Then, begin the Sky Trek adventure over the treetops observing the rainforest and landscape below while you soar safely on this innovative, unique zip-line system.
Traverse 8 cables that with a total length of 1.7 miles, each with distances from 100 to 2460 feet, and maximum height of 660 feet, providing an extraordinary panoramic view.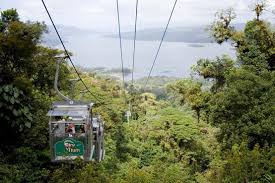 After the tour, you will be driven back to your Arenal or La Fortuna area Hotel.
Departures every hour to hour and a half from 7:30 AM – 3 PM (Schedule expanding to nighttime hours soon).  Contact our agents for exact times.
Customer Feedback
Mauricio, Your country is absolutely wonderful and we enjoyed our entire trip. The sky tram-trek tour is excellent and memorable. Our guides were safe, profesional and humorous. They added to the experience. I would recommend the tour tour to anyone.
Regards
Jhon
We had a great time in C.R. The Sky Tram at Arenal was excellent. Our guides were friendly and interacted with us the whole time. Would definitely recommend to others. Our whole group enjoyed the experience and the guides.
Robert Ladd
Our trip was absolutamente fantastico! The zip lines at Arenal where so much fun and very safe! Arenal Springs was tremendous, with the best food! The view, pool, restaurant, the rooms were all just awesome! The people are so friendly!
Thanks for everything! It was truly beautiful to see Costa Rica!
Colleen Sinclair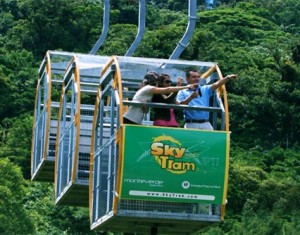 Includes
RT Transportation From/To your Arenal or Fortuna area Hotel. There is an additional charge for hotels outside La Fortuna area
Sky Tram with Observation Platform
Sky Trek Canopy
Canopy Equipment
Safety Instruction
Tour Info
Tour Rates:$ 95 Per person  –  Minimum of 2 persons – Rates Valid Until Oct. 31, 2013
Transportation may stop at multiple hotels before or after your pickup and drop-off times.
Duration: 4 hours
Schedule: Daily Departures every hour to hour and a half from 7:30 AM – 3 PM
Schedule expanding to nighttime hours soon.  Please call for exact times.
Deduct $10 if you provide your own transportation
Private Tours
Private Tour Info
Tour Rates:$ XX Per person  –  Minimum of 2 persons
Transportation Private Transportation can be arranged by our agents.
Duration: 4 hours
Schedule: Daily Departures 8 AM and 1 PM
What to bring
Go dressed ready for adventure.
Be sure to wear TEVAs or tennis shoes – footwear that is sure to stay on your feet.
Apply prior to leaving: Sunscreen, insect repellent
Camera with lanyard, full film card, and charged battery
For more information & reservations please contact Bill Beard's 877-853-0538 M – F, 9 – 6 ET e-mail anytime
General Restrictions
For safety reasons children under 8 years old cannot take the Sky Trek Zip Line tour.
Sky Trek is a complementary tour of Sky Tram and it cannot be sold separately.
People over 100 kilograms weight (217 pounds) most be evaluated by Sky Trek staff (according to his/her height and physical condition) our staff will determine if they can take the tour.
Adventure tours at Arenal Volcano that Bill Beard's offers daily in the La Fortuna area: LEARN MORE
To see all the other adventure tours that Bill Beard's operates in Costa Rica: CLICK HERE
Bill Beard's Costa Rica has privately escorted tours and first class accommodations  throughout the country that may be added to other packages.
We also offer world class adventure tours, scuba diving, snorkeling, surfing, sailing and fishing.
We arrange everything in advance, so you can relax and enjoy your vacation.
For single, triple, quad or group rates, contact our agents.
Our Reservation Office Is Located In La Fortuna, Costa Rica In The Shadow Of Arenal Volcano, behind the Catholic Church, Near The World Famous Hot Springs.
For Reservations & Information
Contact Our Office At 877 853-0538 or 954 453-5044 M – Sat., 9 – 9 ET
Half Day Tour Sky Tram Sky Trek
These activities are NOT RECOMMENDED for pregnant women, those with heart issues, back problems, or other conditions that may preclude them from safely participating in these activities or bring potential harm to other participants.