Hotel Grano de Oro
Hotel Grano de Oro Situated on a shady street just off Paseo Colón, San José's main thoroughfare, Hotel Grano de Oro is a true oasis, a sanctuary in the heart of the city.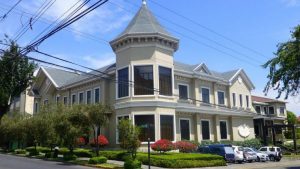 Converted from a Tropical Victorian mansion, the 36-room hotel maintains the warmth and comfort of a private home. Hallways lined with period photographs and original art meander through the building and present lush tropical flower arrangements and luxuriant plants at every turn. Italian tile fountains grace intimate atriums, ensuring that one is never far from the soothing melody of falling water.
Hotel Grano de Oro features thirty-two rooms in three categories as well as three signature suites. All rooms are furnished in Tropical Victorian styles with wrought-iron beds and rich damask fabrics in three jeweled color schemes – navy, burgundy and forest-green. The art and furnishings are handcrafted by Costa Rican artists. No two rooms are alike. Private baths are blue and white Italian tile adorned with gleaming base fixtures.
The restaurant, our common areas and all our rooms are non-smoking. Restaurante Grano de Oro merges Costa Rican tropical with European cuisine under the expertise of French-trained Chef Francis Canal. Once a simple café, this restaurant has evolved into one of San Jose's finest dining establishments, frequented by locals and tourists alike.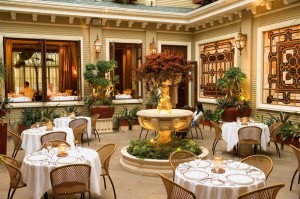 Key Features * Converted from a Tropical Victorian Mansion * Costa Rican tropical & European cuisine Restaurant * Signature Suites and Rooms * Art and Handcrafted Furnishings * Many San Jose Tours * No Two Rooms Alike * Italian Tile Fountains Grace Intimate Atriums.
Standard Room: The smallest and least expensive of the rooms, this category offers cozy quarters with a queen bed and private bathroom with shower. Superior Room While a bit smaller than the deluxe rooms, most superior rooms have a bathtub/shower combination and a queen bed.
Deluxe Room: The most spacious of our three "room" categories, all deluxe rooms have a bathtub/shower combination and either one queen and one twin bed, two queen beds, or a king-size bed. Family Suite A two-room suite with a queen and twin bed in one room and a queen bed in the second room, comfortably accommodating up to 5 people.
Garden Suite A spacious suite with a Jacuzzi tub in the bathroom as well as a small sitting room, which opens to a private tropical garden. Vista de Oro Suite Our most elegant Suite Vista de Oro. Reached by a private staircase, the Vista de Oro lives up to its name commanding a breathtaking view of the Cordillera Central mountain range and the Central Valley skyline. Tiles, individually handmade in hues of ocher and sienna covers the walls and are complemented by rich wood paneling. A series of delicate cabinets stretches the entire length of the room and carefully placed lightning illuminates antique treasures. The bathroom is warmed by paneling handcrafted from Costa Rican hardwood and is complemented by cool Italian tile. The suite's living area, furnished with exquisite antiques, offers style and sophistication. A large in-room Jacuzzi is the ideal vantage point from which to savor a glass of champagne and watch the lights of the city twinkle below.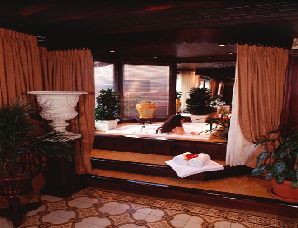 This is one of our favorite hotels in San Jose and the perfect place for honeymoon couples or romantic celebrations. The restaurant is recognized one of the best, if not the best, in San Jose. Bill Beard's can include Hotel Grano de Oro in your vacation package with air, transportation, activities, tours and other accommodations. Just let us know what you would like to do and we'll take it from there.
To see the adventure tours that Bill Beard's operates from Grano de Oro. CLICK HERE
480
true
dots
bottomright
300
true
true
800
none

To see all the adventure tours that Bill Beard's operates in Costa Rica: CLICK HERE
Bill Beard's Costa Rica has privately escorted tours and first class accommodations  throughout the country that may be added to other packages.
We also offer world class adventure tours, scuba diving, surfing, sailing and fishing.
We arrange everything in advance, so you can relax and enjoy your vacation.
For single, triple, quad or group rates, contact our agents.
Our Reservation Office Is Located In La Fortuna, Costa Rica In The Shadow Of Arenal Volcano, behind the Catholic Church, Near The World Famous Hot Springs.
For Reservations & Information
Contact Our Office At 877 853-0538 or 954 453-5044 M – Sat., 9 – 9 ET
Grano de Oro San Jose Costa Rica