Hotel Poco a Poco Monteverde
At Hotel Poco a Poco Monteverde, we offer you 32 fully equipped luxury rooms which occupation goes from singles to doubles, triples and quadruples.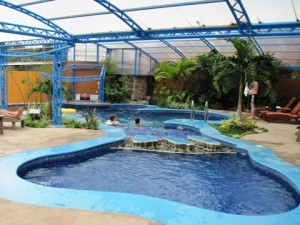 All rooms have a good size private bath with hot water shower and hair dryer. Rooms are equipped with phone which is available for international calls, cable TV, DVD for watching the movies you rent at our own DVD library, coffee maker, safe deposit box and very comfortable orthopedic beds.
Covered heated pool
For your enjoyment and relaxation after a full day of adventure, Hotel Poco a Poco Monteverde, offers you a heated swimming pool. The water is heated to a very comfortable temperature of 30 C degrees, ( 82 / 85 Fahrenheit ). Great for sunny days or clear nights.
Parents can relax while kids enjoy the adjoining children's pool. Recently we incorporated a water purification system based on ionization, which allows us to avoid the use of potentially harmful chemicals. Our heating system assures an efficient use of energy and does not contribute to the green house effect.
Wet Bar
While you enjoy the pool and the views around it, our staff will be ready to serve you at our wet bar, offering the best cocktails and drinks of Monteverde.
Wireless Internet
In Hotel Poco a Poco Monteverde, you will stay connected with the outside world. We offer you a full range of services including printing, faxing and copying services as well as wireless Internet connection. New laptop computers for rent at front desk.
DVD library
There are some movies you can watch over and over again. At Hotel Poco a Poco Monteverde we keep a library of classic DVD movies available for our guests. Browse our list and find your all time favourites!. For your convenience, all of our rooms are equipped with high technology DVD players. Movie rental per night is US$ 3.00.
Security is a priority nowadays; at Hotel Poco a Poco Monteverde we have 24 hours remotely monitored camera system on all parking lots and public areas. Night surveillance is also available on our premises.
Heated pool and jacuzzi
Naroa Spa & Wellness
Sauna and Hydrotherapy
Fully equipped Gym
Beauty Salon
Wet Bar
Cable TV and DVD
DVD Club
Wireless Internet and Laptops
Safety boxes
Tour Desk and Transfers
International calls
Laundry
Kids Club
 To see all the adventure tours that Bill Beard's offers daily at Monteverde: CLICK HERE
468
true
dots
bottomright
264
true
true
800
none

To see all the adventure tours that Bill Beard's operates in Costa Rica: CLICK HERE
Bill Beard's Costa Rica has privately escorted tours and first class accommodations  throughout the country that may be added to other packages.
We also offer world class adventure tours, scuba diving, surfing, sailing and fishing.
We arrange everything in advance, so you can relax and enjoy your vacation.
For single, triple, quad or group rates, contact our agents.
Our Reservation Office Is Located In La Fortuna, Costa Rica In The Shadow Of Arenal Volcano, behind the Catholic Church, Near The World Famous Hot Springs.
For Reservations & Information
Contact Our Office At 877 853-0538 or 954 453-5044 M – Sat., 9 – 9 ET
Hotel Poco a Poco Monteverde Costa Rica