Hotel Villa Belmar
Hotel Villa Belmar is a small, family run hotel located right on the beautiful crescent beach of Playa Hermosa. Playa Hermosa is a large, beautiful beach in Guanacaste on the Pacific Ocean with gorgeous sunsets year around.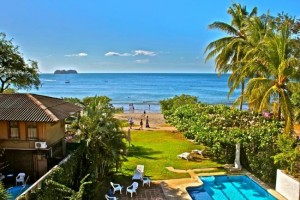 We have been given the blue banner for safety and cleanliness for ten years in a row. It is a great beach for children and Bill Beard's has all the tours and activities that you want that can be added into your itinerary

Unbelievable find right on the beach, secured parking, delicious breakfast, it's like your own beach house with staff. Extremely private and romantic, swimming pool is very clean. Rooms have ac and a fridge so you can keep snacks. You can walk right onto the beach in your bare feet and go to many of the nearby restaurants.
Hotel Villa Belmar is a well kept secret and a great value
Air Conditioned
Cable T.V.
Daily scuba diving, adventure tours, sailing – snorkeling – sunset cruises and sportfishing with Bill Beard's
Free Continental Breakfast (not included in apartments)

Bill Beard's can arrange your entire vacation package that includes air, transportation, accommodations and all the tours and adventure you wish. Call or e mail and let us set up an itinerary that gets you exactly what you want while saving you time and money over trying to book it yourself.
The scuba diving in Gulf Of Papagayo is world class. In addition to 41 local dive sites we offer mid-range trips to Catalina Islands and long range trips to Bat Islands. Don't forget about the sport fishing. There are 124 IGFA world's records standing in Costa Rican waters and 24 of them are all tackle so if marlin, sailfish or rooster fish is on your list, then this is your golden opportunity. Bill Beard's can combine air, transportation, scuba diving, fishing, sailing and many adventure tours in a great vacation package for individuals, families, groups and honeymoon couples. Give us a shout and see what we can do for you. Add On A Two Tank Morning Boat Dive: GO HERE
CLICK HERE to see Bill Beard's adventure tours from Belmar.
468
true
thumbnails
bottomright
264
true
true
800
none

To see all the adventure tours that Bill Beard's operates in Costa Rica: CLICK HERE
Bill Beard's Costa Rica has privately escorted tours and first class accommodations  throughout the country that may be added to other packages.
We also offer world class adventure tours, scuba diving, surfing, sailing and fishing.
We arrange everything in advance, so you can relax and enjoy your vacation.
To see the dive sites available from this resort: CLICK HERE
For single, triple, quad or group rates, contact our agents.
Our Reservation Office Is Located In La Fortuna, Costa Rica In The Shadow Of Arenal Volcano, Near The World Famous Hot Springs.
For Reservations & Information
Contact Our Office At 877 853-0538 or 954 453-5044 M – Sat., 9 – 9 ET
Hotel Villa Belmar Beach Hotel Costa Rica