Manuel Antonio National Park
This beaches are the most beautiful in the country, lined with lush forest, and the snorkeling is excellent too.
Manuel Antonio National Park – Costa Rica's Natural Treasure
Manuel Antonio contains a charming combination of rain forest, beaches and coral reefs
The forest is home for sloths, iguanas, the rare and adorable squirrel monkeys and millions of colorful little crabs. And the trail that winds around Punta Catedral affords some spectacular views. The park is easy to reach, south of the town of Quepos, and is near a good selection of hotels and restaurants.
Visiting the park, one is treated to an abundant diversity of wildlife. Cathedral Point, with its forest topped cliffs was once an island, but is now connected to the coast by a thin strip of island. This land bridge now forms the spine separating the parks two most popular beaches, Playa Espadilla Sur and Playa Manuel Antonio.
The southern facing beach, Playa Manuel Antonio, is a picturesque half mile long, white sand crescent bisecting deep green foliage to one side and a private, secluded cove to the other.
Guides will pick you up at your Manuel Antonio area hotel and after a very short ride you can stop at the local "pulperia" and purchase water or other snacks while your guide takes care of the park entrance fees.
During the two-hour leisurely hike you will look for sloths, numerous species of monkeys, silky anteaters, birds, and reptiles with a good chance to see them all.
At the end of the tour enjoy beverages and guides return you to your hotel.  (If you would like to spend the day at the beach, bring your bathing suit and other items you will need and let your guide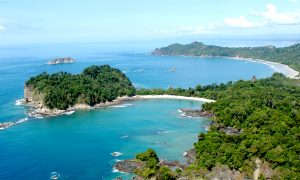 know that you will arrange for a taxi or other transportation back to your hotel).
Discover the beauty of Manuel Antonio, Costa Rica.
Includes
         Transportation to and from Manuel Antonio Area
         Bilingual certified guides
Tour Info
         Tour Rates:$ 59 Per person  –  Minimum persons 2 (Jaco/Los Suenos $36 add'l charge PP)
         Transportation may stop at multiple hotels before or after your pickup and drop-off times. Private tours are available.
         Duration: 5 hours
         Schedule: Tours daily Except Monday at 7 – 12 & 1 2- 5
         Requirements: No Minimum age

 

Regulars Tours $59 PP

7:00 am – 12:00 pm
12:00 am – 5:00 pm

Deluxe Tour – $95 PP – Jaco & Herradura Add $36 PP




9:30 am – 12:30 pm and 1:30 pm to 4:00 pm. *




Ask your guide if you want to stay at the Park after the Tour
Private Tour Info
Private Tours Are Available
[/infolist]
What to bring
         Fast drying clothing (surf shorts, outdoor hiking type synthetic clothes).
         Adventure sandals, tennis shoes or light hiking boots.
         Camera or video (we have individual dry bags).
         Change of clothes and towel.
         Sunscreen – Insect Repellant
480
true
dots
bottomright
300
true
true
800
none

To see all the other adventure tours that Bill Beard's operates in Costa Rica: CLICK HERE
Bill Beard's Costa Rica has privately escorted tours and first class accommodations  throughout the country that may be added to other packages.
We also offer world class adventure tours, scuba diving, snorkeling, surfing, sailing and fishing.
We arrange everything in advance, so you can relax and enjoy your vacation.
For single, triple, quad or group rates, contact our agents.
Our Reservation Office Is Located In La Fortuna, Costa Rica In The Shadow Of Arenal Volcano, behind the Catholic Church, Near The World Famous Hot Springs.
For Reservations & Information
Contact Our Office At 877 853-0538 or 954 453-5044 M – Sat., 9 – 9 ET
Manuel Antonio National Park Costa Rica