Montana del Fuego
At Montaña del Fuego the spacious and comfortable rooms offer you all the facilities to rest and relax. Individual "cabins" give you plenty of solitude when you sit on the porch and enjoy the phenomenal view of the volcano. Larger suites are available to accommodate families.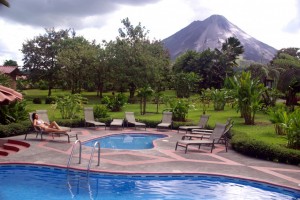 Experience a spiritual renovation and relaxation in the turbulent waters of our indoor Jacuzzi, or receive a massage by an expert masseuse. The volcanic mud of aromatized lotions will help you enjoy unforgettable therapeutic facial and body treatments in one of the 10 massage rooms.
Bill Beard's has daily tours to all the popular attractions aand adventure activities. We can combine them in your vacation package and give you the itinerary you want with no hassle.
FEEL THE POWER OF NATURE FROM YOUR ROOM!
Comfort and natural charm is the perfect formula to describe the rooms that will lead you to relax and meditate. All our bungalow rooms and private terraces enable you to enjoy the spectacular view of the Arenal Volcano and our exotic tropical gardens. Warmth, Comfort and Privacy!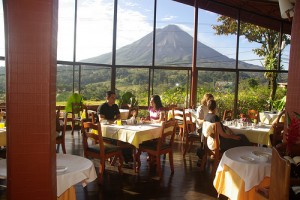 Montana de Fuego has a total of 66 rooms with a maximum capacity of 254 people. It also has 3 double bedrooms (two beds) for guides and drivers.
Exceed your expectations at Montana del Fuego with our five room types!
Lake Suite
Montana del Fuego suites are designed for comfort lovers! Its modern architecture offers luxury, without losing the charm of the natural environment. Enjoy the spectacular view of the volcano from your private outdoor balcony or simply relax in the in-room Jacuzzi. These rooms can comfortably accommodate 4 people (1 King Bed and 1 Sofa Bed). Total: 72 people.
Junior Suite Bungalow Room
Perfect for couples! The delicate interior decoration of the room, combined with the natural beauty of our gardens and lovely jacuzzi on the terrace, make this room a perfect place to relax and live the romance. They have 2 queen beds and one single bed. Total: 28 people
Standard Bungalow Rooms
With the natural warmth of a wooden bungalow, surrounded by an exotic tropical garden, you will see the majestic volcano from the terrace of your room. Capacity per room: 3 (1 Double Bed and 1 Twin Bed) Total: 45 people.
Superior Bungalow Rooms
The charming Superior Rooms at Montana del Fuego feature private balconies with brilliant views to Arenal River Canyon to greet you each morning . We recommend this room type for active guests looking to spend most of their time enjoying the pools and outdoor activities. These rooms can host up to 4 people maximum.
Family Cantarana Rooms
Located in a rustic family block with a capacity for 5 people, these rooms are ideal for family holidays. (2 Queen beds and 1 single bed). Total: 40 people
CLICK HERE to see all the adventure tours available at this hotel with Bill Beard's
480
true
dots
bottomright
300
true
true
800
none

To see all the adventure tours that Bill Beard's operates in Costa Rica: CLICK HERE
Bill Beard's Costa Rica has privately escorted tours and first class accommodations  throughout the country that may be added to other packages.
We also offer world class adventure tours, scuba diving, surfing, sailing and fishing.
We arrange everything in advance, so you can relax and enjoy your vacation.
For single, triple, quad or group rates, contact our agents.
Our Reservation Office Is Located In La Fortuna, Costa Rica In The Shadow Of Arenal Volcano, behind the Catholic Church, Near The World Famous Hot Springs.
For Reservations & Information
Contact Our Office At 877 853-0538 or 954 453-5044 M – Sat., 9 – 9 ET
Montana del Fuego Hotel Costa Rica