Monteverde Cloud Forest And Skywalk From Manuel Antonio
Monteverde Cloud Forest And Skywalk From Manuel Antonio.
Monteverde Cloud Forest Reserve Guided Tour is the best way to see the world famous cloud forest.  You will see much more than you would if you went on your own.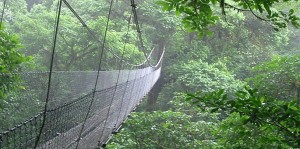 Straddling the Continental Divide at 1440 meters(4662 ft), the Santa Elena and Monteverde Cloud Forest, Monteverde Cloud Forest Reserve Guided Tour offers one of the most interesting place to visit in Costa Rica. Monteverde Cloud Forest Reserve is a private non-profit reserve administered by the Tropical Science Center, and contains 6 distinct ecological zones.
In Monteverde Costa Rica rain forest there are more than 100 species of mammals including 5 species of cats, over 400 species of birds including 30 kinds of hummingbirds, tens of thousands of insect species (over 5000 species of moths) and 2,500 species of plants (420 kinds of orchids). The area is acclaimed as one of the most outstanding wildlife refuges in the New World Tropics.
Monteverde Hanging Bridges are great for people that desire to see the tree canopy in a closer and more relaxed way.
This is a hike of about three kilometers with trails and bridges where you can observe different parts of the forest starting from the ground and getting to the tree canopy experiencing different habitats.
Monteverde Hanging Bridges tour allows you to enjoy nature walking on suspension bridges along the tree-tops so you can view the beauty of the canopy below.  You will spend most of your time close to the tree tops where you will be able to see birds, bromeliads and more.

Monteverde hanging bridges let you see the canopy from a different perspective, looking down on the trees instead of up, an unusual experience and good exercise. It is the best plac e in Costa Rica to sight the resplendent quetzal
About This Tour
Depart Manuel Antonio 6:00 am – Return 10:00 pm
Minimum 4 Persons – Maximum 20
$299 Per Person
Bill Beard's offers many other adventure tours in this area: LEARN MORE
468
true
dots
bottomright
264
true
true
800
none

To see all the other adventure tours that Bill Beard's operates in Costa Rica: CLICK HERE
Bill Beard's Costa Rica has privately escorted tours and first class accommodations  throughout the country that may be added to other packages.
We also offer world class adventure tours, scuba diving, surfing, sailing and fishing.
We arrange everything in advance, so you can relax and enjoy your vacation
For single, triple, quad or group rates, contact our agents.
Our Reservation Office Is Located In La Fortuna, Costa Rica In The Shadow Of Arenal Volcano, behind the Catholic Church, Near The World Famous Hot Springs.
For Reservations & Information
Contact Our Office At 877 853-0538 or 954 453-5044 M – Sat., 9 – 9 ET
Sign up for our Latest Newsletter & Adventure Travel Deals
Read Our Reviews on Trip Advisor…or Write One of Your Own
Monteverde Cloud Forest And Skywalk From Manuel Antonio