Monteverde Cloud Forest Butterfly Garden Reptile
Monteverde Cloud Forest Butterfly Garden Reptile Tour at Monteverde, one of the destinations in C.R. you have to visit. Our tour includes the Treetop Walkways, Butterfly Gardens, Insect and Reptile Exhibitions at Selvatura Park.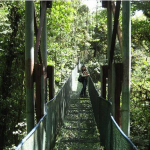 Monteverde Cloud Forest Butterfly Garden Reptile – 
Come and learn about the natural history of this wildlife sanctuary, about its mammals, birds and plants.
Straddling the Continental Divide at 1440 meters (4662 ft), the Santa Elena and Monteverde Cloud Forest area offers one of the most interesting place to visit in Costa Rica.
In Monteverde Costa Rica rain forest there are more than 100 species of mammals including 5 species of cats, over 400 species of birds including 30 kinds of hummingbirds, tens of thousands of insect species (over 5000 species of moths) and 2,500 species of plants (420 kinds of orchids).
The area is acclaimed as one of the most outstanding wildlife refuges in the New World Tropics.Plan at least a few days to explore the cloud forest area, one of the most famous ecotourism orientated community in Central America. There is so much to do, choosing is difficult!
The Monteverde Cloud Forest Reserve is a private non-profit reserve administered by the Tropical Science Center, and contains 6 distinct ecological zones. Called a cloud forest rather than a rain forest: because of it's altitude, the clouds go through the forest. The canopy is extremely rich with birds, insects, butterflies, and thousands of plants. Great bird watching, Resplendent Quetzal is usually seen in the March-April nesting season. Monteverde National Park has a limit to the number of visitors allowed. In case it is unavailable we have two excellent alternatives listed below.
The Santa Elena Cloud Forest Reserve is a state owned non-profit reserve straddling the Continental Divide at an elevation of 1,700 m (5,600 ft.). Cloudier and wetter than the other reserve because of higher elevation. Contains 12 kms of trails (7 m.) and a canopy observation tower. The Santa Elena Cloud Forest Reserve features great views of the Arenal Volcano and the Lake Arenal and similar habitat and wildlife to the Monteverde Cloud Forest Reserve, but a lot less visitors.
Children's Eternal Rain Forest
of Costa Rica (Bosque Nuboso de Los Ninos) With a unique and rich diversity of flora and fauna, Bajo del Tigre (Jaguar Canyon), a small area of the Children's Eternal Rain Forest of Costa Rica (Bosque Nuboso de Los Ninos) , is in a transition zone from pre-mountain wet forest to pre-mountain moist forest. Because of its location on the Pacific slope, elevation and humidity, Bajo del Tigre is a very different habitat from other rain forest reserves in the area.
Includes:
Round Trip Transportation from beach hotels
Lunch
Treetop Walkways
Butterfly Gardens
Insect and Reptile Exhibitions at Selvatura Park
Tour Info
Average Time: 14  hours
Hours: The park is open from 7 AM to 4 PM and has limited slots for daily admittance, plan to go early
Rates: $150 Per Person   Minimum of 4 persons
Tour Schedules: Pick up at 7:00am and 1:00pm
Non-Private Transportation may stop at multiple hotels before or after your pickup and drop-off times.
What to bring
Comfortable walking shoes (good track shoes)
Long pants.
Camera.
Insect Repellent
Bottle of water.
480
true
dots
bottomright
300
true
true
800
none

To see all the other adventure tours that Bill Beard's operates in Costa Rica: CLICK HERE
Bill Beard's Costa Rica has privately escorted tours and first class accommodations  throughout the country that may be added to other packages.
We also offer world class adventure tours, scuba diving, snorkeling, surfing, sailing and fishing.
We arrange everything in advance, so you can relax and enjoy your vacation.
For single, triple, quad or group rates, contact our agents.
Our Reservation Office Is Located In La Fortuna, Costa Rica In The Shadow Of Arenal Volcano, behind the Catholic Church, Near The World Famous Hot Springs.
For Reservations & Information
Contact Our Office At 877 853-0538 or 954 453-5044 M – Sat., 9 – 9 ET
Monteverde Cloud Forest Butterfly Garden Reptile Costa Rica