Monteverde Coffee and Chocolate Tour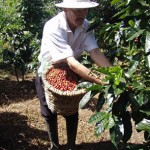 Monteverde Coffee and Chocolate Tour
The Monteverde Coffee and Chocolate Tour is  one of the best ways you can learn about the authentic coffee plantations and process used by our grandparents. The tour takes place in an environment that highlights the best of our culture and tradition that has made this a country of progress and peace.
You will learn all the stages, starting with the planting, the harvest, drying, roasting and grinding of the bean, then, try a cup of the beverage we enjoy every morning and during the day . This is the beverage we find anywhere and everywhere. Always tasty, always comforting.
Your coffee tour will finish with a glimpse into the  traditional methods  of  chocolate  production from  roasting  and grinding the cacao beans to the final  product  we love today. We will have a chance to taste some of the chocolate you made at the end of the tour .
This is one of the many educational and interesting tours that we offer that may be added to your itinerary. We make all the arrangements for transportation, guides and anything else that you may need
Includes:
Entrance fee

Bilingual guided tour

Transportation

Typical snacks
Tour Info
Average Time: 2.5 hours
Rates: 

Prices  valid   until December  15th, 2015

Shared Tour $35 Per Person
Shared Tour  with  local Costa Rican lunch $50 Per Person
Private  Tour  – $80 per person
Private Tour with local Costa Rican lunch $95 per person

Shared Tour Schedule: 8 am – 10 am -1pm – 3pm
Private Tour Schedule: Please  ask about  tour time options!
What to bring
Comfortable walking shoes
Long pants.
Camera.
Insect Repellent
Bottle of water.
300
true
dots
bottomright
157
true
true
800
none

To see all the other adventure tours that Bill Beard's operates in Costa Rica: CLICK HERE
Bill Beard's Costa Rica has privately escorted tours and first class accommodations  throughout the country that may be added to other packages.
We also offer world class adventure tours, scuba diving, snorkeling, surfing, sailing and fishing.
We arrange everything in advance, so you can relax and enjoy your vacation.
For single, triple, quad or group rates, contact our agents.
Our Reservation Office Is Located In La Fortuna, Costa Rica In The Shadow Of Arenal Volcano, behind the Catholic Church, Near The World Famous Hot Springs.
For Reservations & Information
Contact Our Office At 877 853-0538 or 954 453-5044 M – Sat., 9 – 9 ET
Monteverde Coffee and Chocolate Tour
Bill Beard
Bill Beard is the true pioneer of scuba diving in Costa Rica, started diving from dug out canoes in 1970. Bill Beard's Travel specializes in individual, group, honeymoon, family vacation packages, scuba diving, snorkeling, sailing, surfing and adventure tours. Our attention to detail defines us.