Monteverde Trainforest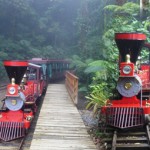 Monteverde Trainforest
NOTE:  Monteverde Trainforest will be closing for integral remodeling at its facilities. From this time the property will cease operations until approximately nine months, to make all the improvements that will allow even more memorable experience for your visitors.
All those who have reservations are being contacted to update the visit.

Monteverde Trainforest – Travel through the Tropical Cloud Forest on a train, on a 6 kilometers railway in 90 minutes. It includes a tunnel, and four bridges, one view point where you can observe the Arenal Volcano and Arenal Lake, as well as part of the Children's Eternal Rainforest, and more.
This is a fun activity for the entire family and may be included with many of our adventure, eco and cultural tours that we offer in the Monteverde Cloud Forest Preserve area.
Monteverde is one of those places that lives with you in your memories long after you return home. The more you visit, the more you wish to return. This is the perfect place to have a complete change of pace and unwind after the rigors of everyday life. Bill Beard's will be happy to include Monteverde in your itinerary as well as any other activities you wish. We arrange all the transportation, accommodations and activities you wish to enjoy
Includes:
Entrance fees
Transportation
Bilingual tour guide who specializes in snakes
Duration: 1 ½ hours (plus 40 to 60 minutes travel).
Hours: 7:00 a.m. to 5:00 pm
Rates: $79.00 Adults, $39.00, Children under 12
To see all the other adventure tours that Bill Beard's operates in Costa Rica: CLICK HERE
Bill Beard's Costa Rica has privately escorted tours and first class accommodations  throughout the country that may be added to other packages.
We also offer world class adventure tours, scuba diving, snorkeling, surfing, sailing and fishing.
We arrange everything in advance, so you can relax and enjoy your vacation.
For single, triple, quad or group rates, contact our agents.
Our Reservation Office Is Located In La Fortuna, Costa Rica In The Shadow Of Arenal Volcano, behind the Catholic Church, Near The World Famous Hot Springs.
For Reservations & Information
Contact Our Office At 877 853-0538 or 954 453-5044 M – Sat., 9 – 9 ET
Monteverde Trainforest Costa Rica
Bill Beard
Bill Beard is the true pioneer of scuba diving in Costa Rica, started diving from dug out canoes in 1970. Bill Beard's Travel specializes in individual, group, honeymoon, family vacation packages, scuba diving, snorkeling, sailing, surfing and adventure tours. Our attention to detail defines us.