One Day Sarapiqui River Class III
One Day Sarapiqui River Class III is perfect for white water novices, old pros and families.
Nature lovers, birdwatchers, and outdoor enthusiasts will especially enjoy the ride through rich vegetation that provides shelter to hummingbirds, toucans, woodpeckers and dozens of other species endemic to Costa Rica, making for a classic tropical river experience.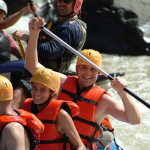 One day Sarapiqui class III white-water rafting (Tour PICKUP is in SAN JOSE) Fortunately for us, one of Costa Rica's most beautiful rivers is also one of the most accessible. The scenery is spectacular: lush rainforest runs along the banks of the crystal-clear waters, both of which shine in the bright tropical sun. The Sarapiquí's gentle rapids originate high in the mountains, and by the time they reach our put-in they have gathered enough force to provide some moderately flowing rapids, some long, peaceful stretches – and some incredible surroundings.
We will pick you up from you San José hotel in the morning, driving for two and a half hours through the bucolic backdrop of Costa Rica's countryside, until we reach the river put-in. Along the way, we will stop for a hearty Costa Rican breakfast. After receiving safety instructions, you will board your inflatable raft and begin a memorable descent through the rainforest. We will serve a picnic lunch on the riverbanks. Take-out is in the afternoon, and you can change into dry clothes in our private facilities before boarding the comfortable minibus for the return trip to San José.
ADD This tour to any hotel package
Includes
         Transportation to and from San Jose Area with breakfast en route

         Bilingual certified guides

         Fruit and snacks on the river

         Ice cold drinks

         Towels

         Lunch. (Photo service available on most trips)
Tour Info
         Tour Rates:$ 95 Per person  –  Minimum of 2 persons

         Transportation may stop at multiple hotels before or after your pickup and drop-off times.

         Duration:5 hours

         Schedule: Departs daily

         Requirements: Minimum age 8
Private Tour Info
Private Tour Info
         Tour Rates: $ 95 Per person  –  Minimum of 2 persons

         Transportation Private Transportation can be arranged by our agents.

         Duration: 8 hours

         Schedule: Departs daily

         Requirements: Minimum age 8
What to bring
         Fast drying clothing (surf shorts, outdoor hiking type synthetic clothes).

         Adventure sandals, tennis shoes or light hiking boots.

         Camera or video (we have individual dry bags).

         Change of clothes and towel.

         Sunscreen – Insect Repellant
480
true
dots
bottomright
300
true
true
800
none

To see all the other adventure tours that Bill Beard's operates in Costa Rica: CLICK HERE
Bill Beard's Costa Rica has privately escorted tours and first class accommodations  throughout the country that may be added to other packages.
We also offer world class adventure tours, scuba diving, surfing, sailing and fishing.
We arrange everything in advance, so you can relax and enjoy your vacation.
For single, triple, quad or group rates, contact our agents.
Our Reservation Office Is Located In La Fortuna, Costa Rica In The Shadow Of Arenal Volcano, behind the Catholic Church, Near The World Famous Hot Springs.
For Reservations & Information
Contact Our Office At 877 853-0538 or 954 453-5044 M – Sat., 9 – 9 ET
One Day Sarapiqui River Class III