OPPORTUNITY KNOCKS – COSTA RICA DIVE TRIP
OPPORTUNITY KNOCKS – COSTA RICA DIVE TRIP
November 4-11, 2017 – Join A Fun Group – Just A Few Spots Left

You Can Bring A Non-Diver – We Have Special Rates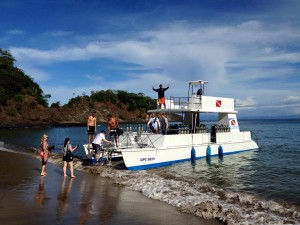 Includes all meals, snacks, alcoholic and non-alcoholic beverages, tax and service, airport transfers, tanks, weights and WIFI at the hotel.
Dives at Bat Islands are available for experienced divers for an additional $65/diver.
Price: $1950/Diver Double Occupancy
CONTACT:
Terri Huber
Deep Blue Adventures
PO Box 495
Swanton, OH 43558
Main Office: 419-517-6309 X 102
Toll Free: 888-266-2209 X 102
Fax: 419-517-6866
Or you may contact Bill Beard's and we will make all the arrangements for you:
Our Reservation Office Is Located In La Fortuna, Costa Rica In The Shadow Of Arenal Volcano,
behind the Catholic Church, Near The World Famous Hot Springs.
For Reservations & Information
Contact Our Office At 877 853-0538 or 954 453-5044 M – Sat., 9 – 9 ET
2018 Specials 7 Nt 5 Dive Day Beach Adventure

To Get Connected And Stay Up To Date With Bill Beard's
Like Us On Facebook
Follow Us On Twitter
Watch Us On YouTube
Connect On LinkedIn
Check Us Out On
TripAdvisor