Orchid Garden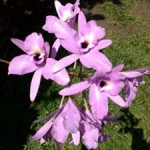 Orchid Garden – This Tour is located in Santa Elena downtown. It is a investigation and educational project to conserve orchids.
This garden has a total of 450 species of orchids, each is identified with the scientific name. You can find species endemic to Monteverde and a collection of miniature orchids, including the smallest in the world.
Enjoy more than 425 species of orchid rich aromas and beautiful colors that Mother Nature gives us, 9 of them endemic to Monteverde.
This enjoyable tour may be added to you itinerary with Bill Beard's that may also include all the adventure activities, eco and cultural tours in the area of Monteverde Cloud Forest Preserve. If your plans include Arenal Volcano you may want to include Arenal Lake crossing by boat that has a great view of the volcano.
Includes
Entrance fees
Transportation
Bilingual tour guide who specializes in snakes
Tour Rates & Info
Duration: 1 ½ hours.
Hours: 9:00 a.m. to 4:00 pm
Rates: $45 Adults, Children under 3 Free
What to bring?
Be sure to wear canyoning shoes,  TEVAs or  tennis shoes – for hiking & something that is sure to stay on your feet during the zip line.
Apply Sunscreen & Insect repellent before tour
T-Shirt of Long-Sleeved shirt to prevent sunburn
Image Gallery
300
true
dots
bottomright
225
true
true
800
none

Book Now~Contact Us
Check Tour Availability or Book Online

To see all the other adventure tours that Bill Beard's operates in Costa Rica: CLICK HERE
Bill Beard's Costa Rica has privately escorted tours and first class accommodations  throughout the country that may be added to other packages.
We also offer world class adventure tours, scuba diving, snorkeling, surfing, sailing and fishing.
We arrange everything in advance, so you can relax and enjoy your vacation.
For single, triple, quad or group rates, contact our agents.
Our Reservation Office Is Located In La Fortuna, Costa Rica In The Shadow Of Arenal Volcano, behind the Catholic Church, Near The World Famous Hot Springs.
For Reservations & Information
Contact Our Office At 877 853-0538 or 954 453-5044 M – Sat., 9 – 9 ET
Orchid Garden Monteverde Costa Rica
Bill Beard
Bill Beard is the true pioneer of scuba diving in Costa Rica, started diving from dug out canoes in 1970. Bill Beard's Travel specializes in individual, group, honeymoon, family vacation packages, scuba diving, snorkeling, sailing, surfing and adventure tours. Our attention to detail defines us.