Pacuare Full Day Rafting Class III-IV
Pacuare Full Day Rafting Class III-IV
Includes Breakfast & Lunch (San Jose)Departs 6 am – Duration Full Day
$99 Per Person
Tours Departing from San Jose or Puntarenas*
*Additional fees will apply for pick up in Puntarenas

Take a journey on the wild side as you explore some of Costa Rica's most biologically diverse tropical rainforests.
This river, more than any other feature of Costa Rica, has built Costa Rica's reputation as an an adventure destination. Costa Rica's reputation as an ecologically conscientious country with awesome unspoiled nature comes mainly from people who have enjoyed this famous rafting trip.
If you have time for more than this one day tour, consider the Pacuare Jungle Lodge On The River Bank,  perfect for honeymoon or any romantic getaway to Costa Rica and stay in splendor on the Pacuare River.  The Pacuare Adventure offers the perfect combination of river rafting, rainforest hiking, canopy, and exquisite gourmet cuisine in beautiful, exotic and stress-free surroundings.]
Your adventure begins with an adrenaline-laden ride down one of the worlds most scenic rivers, The Pacuare River (class III-IV) Costa Rica is called by National Geographic "one of the most beautiful rivers of the world," passing below tumbling waterfalls, impenetrable rainforest and through water that alternates between foamy white and placid green. Let Bill Beard's add this great river to your itinerary. We use the class III & IV section of the Pacuare that is rated as one of the top five rivers in the world for rafting. Please remember that everyone must paddle.
San Jose Hotels – Pick up Time Between 5:45 AM and 6:30 AM, depending on location of your SJO Hotel. Drive time approx 2 Hr 30 mins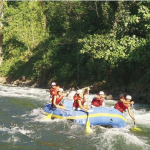 After the scenic drive you will stop for breakfast and meet up with other rafters and rafting guides and continue to the put-in point of the Pacuare River
Experienced River Rafting Guides will carry the rafts, paddles, safety equipment and refreshments to the riverbank where you will be given rafting equipment and basic rafting and safety instructions before you embark on your rafting tour.
Start with gentle white water breaks and work your way through Class III and IV rapids. Safety kayakers accompany rafters for the entire trek. Take a short break and enjoy a little time on land or in the sun with your other rafting companions.
Look for poison dart frogs on the river bank while your river rafting guides prepare a spread of delicious sandwich meats and cheeses, fruits, cookies, and beverages.
After lunch, it's time to paddle some more.  Take in the scenery on this majestic river and its serene beauty.  Don't forget to plunge in and cool off before the end of the trip.
At the end of the tour, guides will carry the gear up the banks and once loaded you will return to your bus where you will be driven back to your San Jose Hotel (Approx drop off times 5 PM-7 PM).
CD with photos of your rafting tour and bonus wildlife shots are available at the end of the tour ($20), and T-Shirts are available.
Must be 12 years of age. NO EXCEPTIONS.
Non-Private Transportation may stop at multiple hotels before or after your pickup and drop-off times.
ADD This tour to any hotel package
Daily Departures
Minimum of 2 persons
If not booking a hotel with us, we require a minimum of 4 persons to book this tour.
Includes
         Transportation to and from San Jose area hotels – Breakfast en route
         Bilingual certified guides
         Fruit and snacks on the river
         Ice cold drinks
         Towels
         Lunch. (Photo service available on most trips)
Tour Info
         Tour Rates: $99 Per person  –  Minimum of 2 persons
         Transportation may stop at multiple hotels before or after your pickup and drop-off times.
         Duration: 9.5 hours
         Schedule: Departs daily at 5:45 – 6:30 depending on hotel
         Requirements: Minimum age: 12 years old
What to bring
         Fast drying clothing (surf shorts, outdoor hiking type synthetic clothes).
         Adventure sandals, tennis shoes or light hiking boots.
         Camera or video (we have individual dry bags).
         Change of clothes and towel.
         Sunscreen – Insect Repellant
480
true
dots
bottomright
300
true
true
800
none

Sublimely beautiful Costa Rica has something for everyone. The treats range from exciting adventure to leisurely relaxation, and everything in between that we can add to your diving package. Furthermore, tourists can sample the laid-back national lifestyle that ticos (the name the Costa Ricans call themselves) refer to as 'Pura Vida' – 'pure life': no stress, no hassle. All this, combined with unsurpassed natural beauty and a developed and accommodating tourist industry, makes Costa Rica a wonderful place to visit and vacation.

See Our 23 Minute Video All About Costa Rica, Scuba Diving & Adventure: SEA HERE
To see all the adventure tours that Bill Beard's operates in Costa Rica: CLICK HERE
Bill Beard's Costa Rica has privately escorted tours and first class accommodations  throughout the country that may be added to other packages.
We also offer world class adventure tours, scuba diving, surfing, sailing and fishing.
We arrange everything in advance, so you can relax and enjoy your vacation.
For single, triple, quad or group rates, contact our agents.
Our Reservation Office Is Located In La Fortuna, Costa Rica In The Shadow Of Arenal Volcano, behind the Catholic Church, Near The World Famous Hot Springs.

For Reservations & Information

Contact Our Office At 877 853-0538 or 954 453-5044 M – Sat., 9 – 9 ET
Sign up for our Latest Newsletter & Adventure Travel Deals
Get Connected And Stay Up To Date With Bill Beard's
Like Us On Facebook
Follow Us On Twitter
Watch Us On YouTube
Connect On LinkedIn
Check Us Out On TripAdvisor
IMPORTANT NOTE – Please be advised that every reasonable effort has been made to keep all prices up to date and free of errors or omissions. Prices and policies from our vendors and the Costa Rican government are subject to change without notice. Invoices will be issued at the time of booking to confirm all final rates and offers.
Pacuare Full Day Rafting Class III-IV
These activities are NOT RECOMMENDED for pregnant women, those with heart issues, back problems, or other conditions that may preclude them from safely participating in these activities or bring potential harm to other participants.