Pacuare Lodge Pacuare River
At the Pacuare Lodge Pacuare River, you can bird watch, hike, swim, fish, explore the rainforest canopy, visit a traditional indigenous community, or simply relax.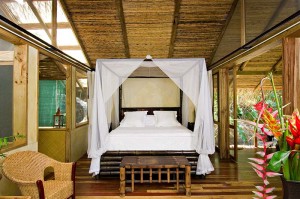 Garden View Bungalow Spacious palm-thatched garden-view bungalow features a canopy king size bed, futon couch, hardwood flooring, private terrace, and a spacious private bathroom adorned with burnished copper fixtures, private alfresco shower with solar heated water, and a nearly 360º rainforest view * One king-size bed * Private bathroom * Futon couch * Solar heated shower *
Private terrace River View Junior Suite Your spacious (670 sq ft./ 62sq. meters ) palm-thatched river-view suite includes a private terrace that opens on to landscaped native bush gardens and towering vine-draped trees. Around the corner a raised hardwood deck offers you a stunning view of a massive wall of thick rainforest that cascades down a mountainside opposite the Pacuare River. A luxuriously appointed canopy king size bed with crisp 300-thread Egyptian cotton linens, and superior Beautyrest mattress® caters to a serene, restful night's sleep. • One king-size bed with Simmons Beautyrest mattress® • Private bathroom • Two solar heated showers • Private terrace with hammock •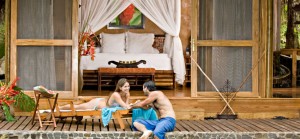 Private Deck Honeymoon Suite Set high on a lush jungle hilltop overlooking the main lodge, our newly renovated honeymoon retreat offers newlyweds and nature-lovers alike, an exclusive haven in which to surrender to the romantic spell of the Pacuare rainforest. A cobbled path leads you and your partner from the main lodge up to a knoll overlooking the other facilities. Along the way the jungle whispers and hums with exotic harmonies and rhythms—the soft cooing of a keel-billed toucan or perhaps the exotic and bubbly crescendo of the Montezuma Oropendola, whose large teardrop shaped nest dangles from a towering treetop nearby. * One king-size bed with Simmons Beautyrest mattress® * Spacious private bathroom with solar heated shower * Outside solar heated shower * Private deck and terrace with hammock * Spring-fed infinity pool * Private hanging bridge to treetop platform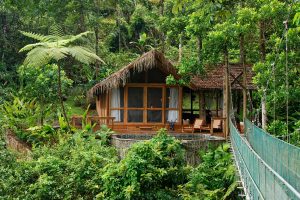 NEW!! Linda Vista Suites Perched on a ridge amidst exuberant tropical greenery, the four Linda Vista Suites offer unforgettable views of the Pacuare River and surrounding rain forest. Those bright and spacious (230-square-meter) suites are the Pacuare Lodge's premier accommodations, with a simple, natural design and exquisite décor that perfectly complement the verdure and profusion of the surrounding jungle. The suites offer a level of luxury that belies their remote location – a king-size bed with Simmons Beauty Rest mattress, Egyptian cotton sheets, leather chairs, a spacious bathroom with indoor and outdoor showers and a long deck and a private dipping pool fed by spring water. Each bungalow was built with special attention to the hillside's topography so that guests enjoy gorgeous views of the river and forest from every area – the bedroom, living room, bathroom, deck and pool.
Each Linda Vista Suite also has a mini bar, room safe, bathrobes and a telephone to communicate with the main building, as well as an innovative Eco-Concierge, who helps guest with tour reservations, general information and any specific needs. We are certain that the comfort of the Linda Vista Suites, coupled with the lodge's excellent food and service, offer the most luxurious lodging experience available in the heart of a tropical rain forest. Features: * Living room * One king-size bed with Simmons Beautyrest mattress® * Spacious private bathroom with solar heated shower * Outside solar heated shower * Private deck and terrace with hammock * Private spring fed private pool Overnight Stays and Honeymoon
Bill Beard's Packages: Most people stay there on 2-day, or 3-day river rafting packages, but you can also visit the lodge without descending the Pacuare River, which makes it an option for families with young children and other travelers who aren't up for a white water trip. Though the scenery and nature are spectacular, guests are equally impressed with the service, comfort, food and details such as the wine cellar, candlelight dinners and massage therapist available. All of this and river rafting on one of the world's top five rivers. Class III & IV with some of the most beautiful scenery in Costa Rica. This is a great honeymoon destination too and we can include it with some oif our other fabulous resorts and activities.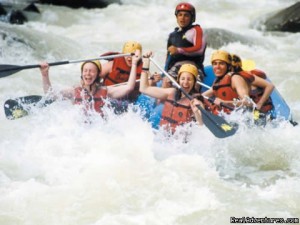 About the Pacuare Lodge Pacuare River, one of the world's top whitewater runs, offers Class II-V rapids and spans some of the country's most stunning scenery. The river originates deep within the Cordillera de Talamanca and flows more than 100 kilometers to the Caribbean Sea. Flanked by towering gorges covered in lush vegetation, the Pacuare affords a sense of total isolation as it snakes through primary rainforest and cascades over pristine waterfalls. Pasture lands and indigenous villages spot the upper river banks, and rough dirt roads zigzag across the canyon walls, providing access to this free flowing gem. Both first-time rafters and seasoned professionals will enjoy the unparalleled beauty and challenging rapids of the Pacuare. The river's spectacular scenery and whitewater runs offer a magical journey, one that rafters will never forget.
To see all the adventure tours that Bill Beard's operates from Pacuare Lodge: CLICK HERE
480
true
dots
bottomright
300
true
true
800
none

To see all the adventure tours that Bill Beard's operates in Costa Rica: CLICK HERE
Bill Beard's Costa Rica has privately escorted tours and first class accommodations  throughout the country that may be added to other packages.
We also offer world class adventure tours, scuba diving, surfing, sailing and fishing.
We arrange everything in advance, so you can relax and enjoy your vacation.
For single, triple, quad or group rates, contact our agents.
Our Reservation Office Is Located In La Fortuna, Costa Rica In The Shadow Of Arenal Volcano, behind the Catholic Church, Near The World Famous Hot Springs.
For Reservations & Information
Contact Our Office At 877 853-0538 or 954 453-5044 M – Sat., 9 – 9 ET
Pacuare Lodge Pacuare River Costa Rica