Peace Lodge La Paz Waterfall Gardens
Peace Lodge La Paz Waterfall Gardens located on the grounds of La Paz Waterfall Gardens Nature Park and one hour from the San Jose International Airport, Peace Lodge encompasses the rustic past and natural beauty of the rainforest and the essence of Costa Rica.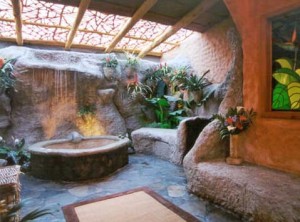 We endeavored to create the finest quality accommodations.
Every room boasts a Jacuzzi tub and stone fireplace along with showers that transform into waterfalls with a turn of the knob. Picture perfect views of the La Paz River Valley complete the experience.
Peace Lodge La Paz Waterfall Gardens was recently featured on the Travel Channel's "Honeymoon Hotspots International" as one of eight of the most romantic worldwide destinations for honeymooners. The Peace lodge is the ultimate awakening of your senses. Here every magical sight, wondrous smell and sensual touch create irreplaceable memories of a journey you wish to take again and again. Each and every room boasts a Jacuzzi tub and stone fireplace along with showers that transform into waterfalls with the turn of a knob. From the handcrafted canopy beds and love seats to the original stained glass and illustrated artwork you will understand the time and care put into the details of each accommodation. To insure your enjoyment of the cool mountain weather and view of the Poás Volcano, we built oversized balconies complete with rocking chairs, hammocks and custom Jacuzzi tubs.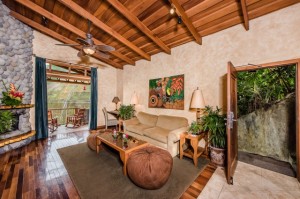 The experience continues with your choice of aromatherapy products and our selection of fine quality linens and robes. All guests are welcome to enjoy the park before it opens and after it closes, the optimal bird and wildlife viewing times. Private walking tours are available, but we suggest booking these at the same time you reserve your room. Guests will be greeted in our new Reception with a postcard view of the La Paz River Valley. Complimentary internet access is available to all of our guests in the Reception as well as in the Vista Poas Dining Room.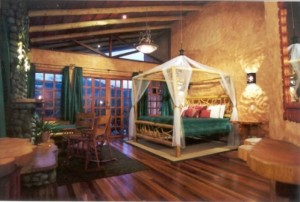 We recommend a three-night stay for guests looking to make the most of their Peace Lodge experience. Please keep in mind, as beautiful as we think our property is, we recommend no more than a four night stay, in order for you to explore other areas of Costa Rica. Guests arriving directly from the airport will awaken to the sound of the rainforest and waterfalls rather than the city noise of San Jose. The drive from the airport is approximately one hour and very scenic. Guests can either dine on the patio viewing the Poás Volcano or have breakfast served in their room. For lunch guests can choose from our delicious buffet including rotisserie chicken, hot dogs, pizza and typical Costa Rican fare in the Colibries Restaurant, rated Four Forks by the ICT or enjoy a la carte waitress service in our Big Trout Bar. Each afternoon, guests are invited to the Big Trout Bar to watch the sunset and enjoy a la carte tapas and freshly made fruit drinks lakeside.
Dinner becomes an event in our intimate dining room and bar in the Vista Poás Restaurant. Guests can arrive early for a pre-dinner drink, a game of backgammon or read from our lending library. Our first-class wait staff will delight them with a delectable four-course meal and full bar. Guests can choose room service as well.
If you can't spend a night or two here then at least opt for the full day tour, it's magical and not to be missed: LEARN MORE
To See Area Tours Offered By Bill Beard's: CLICK HERE – To See A Short Video Clip:  CLICK HERE
480
true
dots
bottomright
300
true
true
800
none

Bill Beard's
 Costa Rica has
privately escorted tours throughout the country
that may be added to other packages. Scuba Diving tours are also available.
We can arrange everything in advance, allowing you the time to relax and enjoy your vacation.
For single, triple, quad or group rates, contact our agents.
Our Reservation Office Is Located In La Fortuna, Costa Rica In The Shadow Of Arenal Volcano, Near The World Famous Hot Springs.
For Reservations & Information
Contact Our Office At 877 853-0538 or 954 453-5044 M – Sat., 9 – 9 ET
Peace Lodge La Paz Waterfall Gardens