RAINFOREST ADVENTURE ADVENTURE 3-in-1 WITH AERIAL TRAM OR CANOPY
RAINFOREST ADVENTURE ADVENTURE 3-in-1 WITH AERIAL TRAM OR CANOPY
Includes Lunch
$140 Per Person (San Jose)
Tours Departing from San Jose or Puntarenas*
*Additional fees will apply for pick up in Puntarenas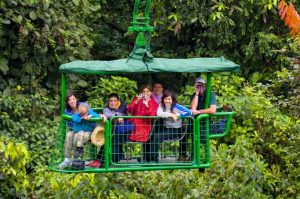 We will make our way through the beautiful Braulio Carrillo National Park, one of the most important rainforest reserves in Costa Rica. Then we will take you on a relaxing boat ride on the Sarapiqui River where you may be able to see monkeys, iguanas, sloths, crocodiles, alligators, otters, and a variety of bird species.. After this experience you will walk into Selva Verde's eco lodge private trails, which is heaven for nature enthusiasts, hikers, bird and wildlife
After a delicious lunch we will continue our trip to the famous Rainforest Aerial Tram, a sanctuary which shelters an eco-touristic and research park like no other in the world.
Experience the rain forest the same way a bird does. Observe the most complete ecosystem on Earth – the rain forest canopy. The Rain Forest Aerial Tram – Atlantic is a 475-hectares (1,200-acre) private reserve, shares a 10 km border with Braulio Carrillo National Park and constitutes a buffer zone between the park and the farming lands. You can choose between the Aerial Tram or Canopy Zip Lines.
Sublimely beautiful Costa Rica has something for everyone. The treats range from exciting adventure to leisurely relaxation, and everything in between that we can add to your diving package. Furthermore, tourists can sample the laid-back national lifestyle that ticos (the name the Costa Ricans call themselves) refer to as 'Pura Vida' – 'pure life': no stress, no hassle. All this, combined with unsurpassed natural beauty and a developed and accommodating tourist industry, makes Costa Rica a wonderful place to visit and vacation.

See Our 23 Minute Video All About Costa Rica, Scuba Diving & Adventure: SEA HERE
To see all the adventure tours that Bill Beard's operates in Costa Rica: CLICK HERE
Bill Beard's Costa Rica has privately escorted tours and first class accommodations  throughout the country that may be added to other packages.
We also offer world class adventure tours, scuba diving, surfing, sailing and fishing.
We arrange everything in advance, so you can relax and enjoy your vacation.
For single, triple, quad or group rates, contact our agents.
Our Reservation Office Is Located In La Fortuna, Costa Rica In The Shadow Of Arenal Volcano, behind the Catholic Church, Near The World Famous Hot Springs.

For Reservations & Information

Contact Our Office At 877 853-0538 or 954 453-5044 M – Sat., 9 – 9 ET
Sign up for our Latest Newsletter & Adventure Travel Deals
Get Connected And Stay Up To Date With Bill Beard's
Like Us On Facebook
Follow Us On Twitter
Watch Us On YouTube
Connect On LinkedIn
Check Us Out On TripAdvisor
IMPORTANT NOTE – Please be advised that every reasonable effort has been made to keep all prices up to date and free of errors or omissions. Prices and policies from our vendors and the Costa Rican government are subject to change without notice. Invoices will be issued at the time of booking to confirm all final rates and offers.
RAINFOREST ADVENTURE ADVENTURE 3-in-1 WITH AERIAL TRAM OR CANOPY