Rio Celeste One Day Hiking Tour
Rio Celeste One Day Hiking Tour: Join us for a unique hike in the Tenorio Volcanic park. We leave Fortuna right after an early breakfast heading towards the village of Guatuzo.
The hike will begin around 9:00am at the trail head for our 3 to 4 hour hike to the beautiful celestial blue waters consisting of two pristine brooks that meet forming the perfect chemistry to create aqua blue colored waters. As we walk through the Rain Forest, we will visit the "Teñideros" where the river gets its color, the Turquoise waterfall and the hot springs . Lunch will be served at the trail head and we will return to La Fortuna around 4:30pm
Overview:  Rio Celeste is the crown jewel of Northern Costa Rica. The Light Blue River, a winding body of water surrounded by amazing rainforest in the Tenorio Volcano National Park, sports one of Costa Rica's most beautiful waterfalls, natural hot springs, as well as the unique phenomenon of clear water turning blue by means of a volcanic chemical reaction. The trip from La Fortuna is well worth it, as many people I know have considered Rio Celeste the best and most beautiful part of their trip through Costa Rica.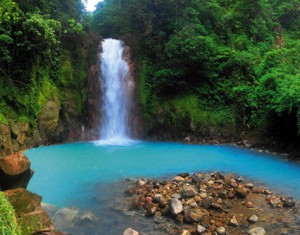 Rio Celeste Waterfall-Costa Rica's Finest: A trip to Rio Celeste involves a pleasant, yet somewhat challenging, hike through the cool rainforest scenery of the Tenorio Volcano National Park. The hike will last about three hours before you reach the Rio Celeste Waterfall. Take some time here to enjoy the beauty of this gorgeous cascading water crashing down. The lush green tropical surroundings top off one of most aesthetically-pleasing views in all of Costa Rica.
Includes
Tour includes R/T transportation
Pick-up at your hotel  at 7:30 A.M. most La Fortuna hotels. There is an additional charge for hotels outside La Fortuna area
Breakfast
Experienced guides
Cold drinks
Lunch
Return to you hotel around 4:30
Tour Info
RATES VALID THROUGH DEC. 15th, 2015

Tour Rates Adults: $130 Per person  –  Minimum of 2 persons – Child 8 to 11  $104 per person
Rates Valid Until Dec. 15, 2015
Transportation may stop at multiple hotels before or after your pickup and drop-off times.
Duration: 9 hours
Schedule: Daily Departures
What to bring
Comfortable hiking or walking shoes
Long pants
Rain Gear ( just in case)
Sun screen, Repellent or Hat
Camera extra film cards, and batteries
Binoculars
For more information & reservations please contact Bill Beard's 877-853-0538 M – Sat., 9 – 9 ET e-mail anytime Agent@BillBeardCostaRica.com
ADD This tour to any hotel package
Daily Departures
Minimum of 2 persons
Bill Beard's Has Many Great Tours In This Area: LEARN MORE
480
true
dots
bottomright
300
true
true
800
none

To see all the other adventure tours that Bill Beard's operates in Costa Rica: CLICK HERE
Bill Beard's Costa Rica has privately escorted tours and first class accommodations  throughout the country that may be added to other packages.
We also offer world class adventure tours, scuba diving, snorkeling, surfing, sailing and fishing.
We arrange everything in advance, so you can relax and enjoy your vacation.
For single, triple, quad or group rates, contact our agents.
Our Reservation Office Is Located In La Fortuna, Costa Rica In The Shadow Of Arenal Volcano, behind the Catholic Church, Near The World Famous Hot Springs.
For Reservations & Information
Contact Our Office At 877 853-0538 or 954 453-5044 M – Sat., 9 – 9 ET
Rio Celeste One Day Hiking Tour