Rio Perdido Hotel Spa Costa Rica
Rio Perdido Hotel Spa Costa Rica. The centerpiece of this 600-acre private reserve is the Rio Perdido, which means "lost river". This 150-foot, thermo-mineral gorge that draws energy from deep magma flows, will cast its spell on anyone that descends to its magical waters for the first time. It's a completely natural and inspiring setting, unlike any other place on the planet.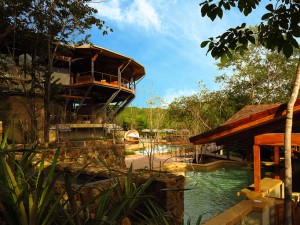 Development in Rio Perdido Hotel Spa Costa Rica has been designated within an area that will sum up to less than 5% of the total land area once all of the phases are completed. We have chosen an extremely interesting point for focusing said development; a place flaunting unique natural phenomena. But we also chose sites based on ecologically sound judgment. These were either scarce of forest cover or allowed us to creatively design around the present flora. So, the topography was the main inspiration for the design concepts.
Because of the overwhelming and practically unanimous desire of our visitors to remain in the reserve and be able to carry out the myriad of activities available, we saw the need to carry out this first hotel phase.
Getting a bit more into the elements that inspired the design: the hotel site is just north of the amazing convergence point. This means that two deep canyons flank it. One is a completely vertical gorge carrying cool waters with a peculiar white tint and the other is our thermo-mineral Rio Perdido. We want guests to remain conscious of this magical setting and thus, designed bungalows that would allow most elements to permeate through the unit's four sides. The ever-present breezes, the crisp light, the sounds of the surrounding forest…these are elements that we sought to preserve while insuring comfort to our guests. More importantly, these are elements practically force peace upon guests!
Among the many techniques that we employed out of respect for the topography is the pylon architecture. The bungalows are suspended above the ground via 7 well grounded columns.
The 20 bungalows are distributed into 3 segments, according to the gradient lines. From top to bottom, these segments have 7, 5, and 8 units. They truly each offer a unique experience. Access to the bungalows is served via elevated pathways that connect to general circulation pathways and hiking trails.
The different focal zones of the project can be accessed by foot, bicycle, or compact-electric cars that offer transport service. While said areas are not far from one another, it is up to the guests as to how they will move about.
The modular build-style of the bungalows serves to insure minimal impact, as far as maintenance and footprint are concerned. The unit's shell is composed of steel and light walls of a strong and inert composition. Details include fine wood accents, stainless steel, nylon rope, and polished concrete floors. We have designed something special that is both clean and warm.
Services
Breakfast a la Carte -included in rate-
Restaurant
Bar
Free parking and transfer to the hotel and main building
Laundry and ironing service
Tour & Concierge at front desk
Craft and convenience shop
Recreation
Spa
Three thermo-mineral pools
Suspension bridge
Trail forest network
River Pools and hot springs
Lookout points
10-mile Bike Park
Canyon Adventure and other tours
Along the riverbed, there are 8 registered springs, from which over 4000 gallons of hot water emanate every minute. At these points, the water is a bit too hot for more than a dip of the foot. But as a result of the spring water mixing with the river's flow, we have been blessed with dozens of soothing pools, of varying temperatures, that are absolutely perfect for prolonged bathing. And, just upstream from the springs zone, you can actually swim in cool water. In this unique area, you can literally jump between hot and cold mineral water.
Along the Rio Perdido, grows a beautiful forest of Ron Ron, Ojoche, Nispero, Jobo, Ceibo, and Espavel trees that boast canopy heights upwards of 160 feet. This scene makes for a strong contrast with the dwarf forest that grows outside and above the canyon. So there are two very distinct ecosystems occurring adjacent to eachother. The canyons behave like long oases, cutting through the arid forest. This has given way to a very interesting mix of local fauna. You are guaranteed to see all sorts of birds, mammals, reptiles, amphibians and insects.
The trail circuit and a series of bridges, including a 200ft hanging bridge that connects the hotel to the reserve, allow visitors with a sense of exploration to taylor their own unique adventure, each day. There are dozens of destinations within The Reserve. You can opt for a short and easy walk to the Yurro Waterfall or you can challenge yourself with a hike up to Las Tumbas.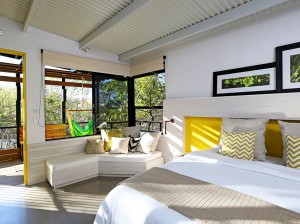 Flexible occupancy bungalows
While the feel of each bungalow is distinct, all of them offer the same features and amenities. The 36m2 (400sq ft.) consist of a cozy but very comfortable bedroom + bathroom and an elevated terrace. The rooms have two twin beds on industrial rollers. This design allows them to be brought together so as to form a king-sized bed. One of these beds also has a trundle underneath, which is perfect for a third adult or a child. The room can accommodate a person travelling alone…honeymooners, parents with up to 1 children (4 -11) years and 1 baby or toddler (0 – 3 years), parents with up 1 children (12 – 16 years). Hence, the term "flexible occupancy".
Continuing with the idea of a flexible space, opposite from the beds there is a multiuse element which serves as a mini bar / coffee station, a desk area, a multimedia area , and a closet area.
Bill Beard's offers  scuba diving, sport fishing and adventure tours daily from the resort. See the dive sites HERE
To See Adventure Tours Bill Beard's Offers Daily from Rio Perdido Hotel Spa Costa Rica:
CLICK HERE
468
true
dots
bottomright
264
true
true
800
none

To see all the adventure tours that Bill Beard's operates throughout Costa Rica: CLICK HERE
Bill Beard's Costa Rica has privately escorted tours and first class accommodations  throughout the country that may be added to other packages.
We also offer world class adventure tours, scuba diving, surfing, sailing and fishing.
We arrange everything in advance, so you can relax and enjoy your vacation.
For single, double, triple, quad or group rates, contact our agents.
Our Reservation Office Is Located In La Fortuna, Costa Rica In The Shadow Of Arenal Volcano, Behind The Catholic Church, Near The World Famous Hot Springs.
For Reservations & Information
Contact Our Office At 877 853-0538 or 954 453-5044 M – Sat., 9 – 9 ET
Sign up for our Latest Newsletter & Adventure Travel Deals
Rio Perdido Hotel Spa Costa Rica