Scuba Diving Four Seasons Resort Costa Rica
Scuba Diving Four Seasons Resort Costa Rica Video With Adventure & Nature

Experience the best of two worlds, scuba diving in North West Pacific Of Costa Rica while staying in The Four Season Beach Resort – Enjoy a two tank morning local dive in the Gulf of Papagayo.  Also available are long range dives to the Catalina Islands and Bat Islands.  Combination scuba diving and sport fishing trips to both Catalina and Bat Islands are also offered  English and Spanish speaking PADI certified dive masters that will guide you on two different dive sites. Includes dive equipment and snacks on board. For other resorts , areas and scuba diving & adventure vacation packages: GO HERE

Costa Rica's Best Scuba Diving

Scuba Diving Four Seasons Resort Costa Rica offers PADI certified instructors and divemasters.  Both Spanish and English is spoken on the boats. You will be required to show your certification card, so don't forget to pack it!
Local dives offer great diversity of marine life with anchored dives.  Great area for novice divers and those looking to practice macro photography.  Dive sites have maximum depths of under 50 feet, so you can get ample bottom time.  The dive sites at Catalina and Bat Islands are the premier land based dive sites in Costa Rica.  This is a fabulous dive area and you may see manta rays, sail fish, marlin, tremendous schools of fish such as jacks, lady fish, spade fish, cubera snapper and much much.
Experience level, currents, surge:
We have dive sites suitable for all levels of diver from Beginner to the most Advanced. Dive depths average 60-80 ft maximum for first dive, and 40-60 ft maximum depth for second dive of the day, so you can get in plenty of bottom time. There are more advanced dives to the Catalina and Bat Islands. For the Bats you will need to be an advanced diver or show proof of 50 dives. Most of the shops require that you dive local waters to adjust weight and buoyancy before diving Bat Islands. We also offer full PADI certification classes & referral courses.
Ocean temperature and visibility:
Visibility is not seasonal and averages 40-60 ft year round and we have very calm seas, particularly in US summer months when water is flat calm. Water temperature ranges from averages of 74-78 F from December to March (5mm suit recommended) and 78-84 F from April to November (3mm suit recommended)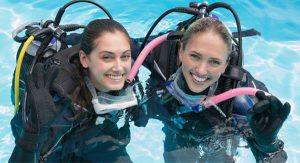 Includes
Two Tank Morning Boat Dive

Weights & Weight Belt


Snacks On Board


Rates

Two-tank LOCAL dive –  Gulf of Papagayo
Minimum of two divers required, unless other divers booked for trip that day
1 Day of Local Diving – $95 per certified diver (does NOT include transportation)
ADD for Transportation $40 (1-7 persons, pickup on beach or by car at dive shop's discretion)

Two-tank Catalina Islands dive
Minimum of four divers required, unless other divers booked for trip that day
Add to price of Local Dive above – $50 per certified diver
Video Clip For Catalina Islands: CLICK HERE
Two-tank Bat Islands dive
Minimum of four divers required, unless other divers booked for trip that day
Add to price of Local Dive above – $65 per certified diver
Video Clip For Bat Islands:  CLICK HERE

What to Bring
C-Card

Sunscreen

Hat

Rain Jacket

T-Shirt or Long-Sleeved shirt to prevent sunburn

Chamoiz or other fast drying towel
For More About The Four Seasons, Photos & Amenities: CLICK HERE
Bill Beard's
 Costa Rica has privately escorted tours and first class accommodations  throughout the country that may be added to other packages.
To see escorted tours Bill Beard's operates daily from The Four Seasons Resort: CLICK HERE

To see all the other adventure tours that Bill Beard's operates in Costa Rica: CLICK HERE

468
true
dots
bottomright
264
true
true
800
none

Watch Our Full Length 23 Minute Video On Costa Rica:  LEARN MORE
We also offer world class adventure tours, scuba diving, surfing, sailing and fishing.
We arrange everything in advance, so you can relax and enjoy your vacation.
Our Reservation Office Is Located In La Fortuna, Costa Rica In The Shadow Of Arenal Volcano, behind the Catholic Church, Near The World Famous Hot Springs.
For Reservations & Information

Contact Our Office At 877 853-0538 or 954 453-5044 M – Sat., 9 – 9 ET
Sign up for our Latest Newsletter & Adventure Travel Deals
To Get Connected And Stay Up To Date With Bill Beard's
Like Us On Facebook
Follow Us On Twitter
Watch Us On YouTube
Connect On LinkedIn
Four Seasons Resort Costa Rica at Peninsula Papagayo Was Voted # 1 For 2017  BRIDES Honeymoon Awards.
Scuba diving Four Seasons Resort Costa Rica
"Pura vida" is a way of life in Costa Rica—an ethos of simplicity that you'll find infused into every aspect of this 181-room gem set on a tiny spit of northern Pacific coastline.
IMPORTANT NOTE – Please be advised that every reasonable effort has been made to keep all prices up to date and free of errors or omissions.  Prices and policies from our vendors and the Costa Rican government are subject to change without notice. Invoices will be issued at the time of booking to confirm all final rates and offers.