Scuba Diving Vacations Costa Rica
Scuba Diving Vacations Costa Rica. Costa Rica is a small republic on the Central America isthmus. The Pacific Ocean lies off its west coast, and the Caribbean Sea is to the east. With more than 800 miles of coastline, as well as offshore island chains, Costa Rica offers excellent scuba-diving opportunities.The Pacific Coast has a number of world-class diving facilities, with PADI-training courses and dive shops, but the Caribbean coast is less developed.

Weather:
Costa Rica's climate is tropical, and water temperatures are suitable for diving all year-round. The dry season lasts from December through March, and the rainy season is April through November, with most rain falling during the afternoons. The Papagayo winds make for choppy sea conditions during the dry season, although it is usually calmer in the mornings. Underwater visibility is good in the Caribbean, but in the Pacific, visibility is best in a few specific areas such as Drake's Bay and Gulf Of Papagayo.
Where to Stay
Coastal resorts such as Playa del Coco or Playa Hermosa make a good base for your scuba vacation, with a variety of choices in accommodations as well as shops, bars and clubs.  Some dive schools offer scuba-vacation packages, such as Bill Beard's in Playa Hermosa, which is a five-star PADI dive resort that offers diving courses up to "Dive Master" level, as well as guided scuba excursions for divers of all abilities.
Isla del Caño
Isla del Caño in the Pacific Ocean is one of Costa Rica's top dive spots, with great visibility and abundant marine life that is attracted by the deep, cold waters. Species include sea turtles, dolphins, manta rays, tuna, grouper, snapper, barracuda and sharks, as well as humpback and pilot whales. The island is a marine biological reserve, so diver numbers are strictly regulated.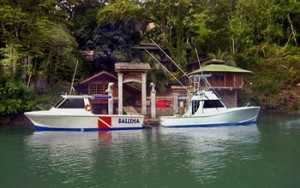 Catalina Islands
The Catalina Islands are off the Pacific coast. In the dry season, divers will encounter giant manta rays; while white-tip reef sharks, barracuda, eagle rays and devil rays can be spotted year-round. This is an advanced dive site, and the main diving areas are The Point and The Wall. The islands are accessible from resorts in the Gulf of Papagayo.
Islas Murcielagos
The Bat Islands are considered by some divers to be one of the country's most outstanding dive venues. The islands are a protected marine area in Santa Rosa National Park, so you need special permits to dive. The rainy season is the best time for diving, when you can expect to see large congregations of schooling fish, manta rays and zebra eels. At the Big Scare, you can also swim with bull sharks. Islas Murcielagos is an advanced dive site, with strong currents and choppy surface conditions.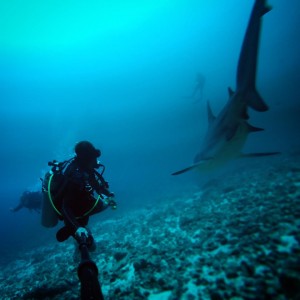 Considerations
You must be able to provide proof that you are a certified scuba diver to dive in open waters; otherwise, you must undertake training with a PADI-qualified instructor. A basic scuba course will take two days, and a full open water course comprises four days. Please contact Bill Beard's and we will make all the arrangements.
Have you seen our new DVD on scuba diving, fishing & adventure in Costa Rica? If not: GO HERE
See customer comments on Trip Advisor: Go Here

Our agents can set up the all inclusive or al a carte vacation dive package and itinerary you want throughout the country. There is no charge for our service and we'll save you money and lots of time and you'll get the vacation you want.  Bill  Beard's reservation office is located in La Fortuna, Costa Rica in the  shadow of Arenal Volcano, behind the Catholic Church near the world famous hot springs.
CONTACT: Direct: 954-453-5044 FAX: 321-400-1404 Toll free: 877-853-0538
Office Hours:  8-6 CST M-F & Sat 9-5 CST
Bill Beard Costa Rica LOCAL number 2479-7089 from 9-5 PM when you are in Costa Rica.
e mail anytime agent@billbeardcostarica.com
Sign up for our Latest Newsletter & Adventure Travel Deals
To Get Connected And Stay Up To Date With Bill Beard's
Like Us On Facebook
Follow Us On Twitter
Watch Us On YouTube
Connect On LinkedIn
Costa Rica Scuba Diving Vacations