Sky Tram Sky Trek Sky Walk Tour
Fly up to the Continental Divide on a high-tech cableway that includes a ride 1600 meters long.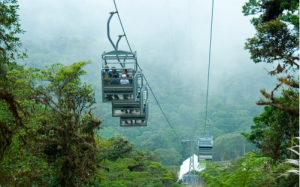 Sky Tram Monteverde Costa Rica
Sky Tram Sky Trek Sky Walk Tour
The safe, innovative Sky Trek consists in 11 cross-sectional zip lines that make gives you an opportunity to observe the Cloud Forest of Monteverde and its landscapes from a different perspective. Sky walk consists of a hiking tour that includes five suspensions bridges.
This guided tour gives you an opportunity to observe the cloud forest's biodiversity.  On a clear day you can see the Arenal, Tenorio, Miravalles and Orosi volcanoes, the Nicoya gulf, and the Guanacaste plains.
Even those with some disabilities can enjoy the Sky Tram gondolas.
Sky Trek
To enjoy the Sky Trek you must first ride the Sky Tram to the beginning. On the Sky Trek you will zip line by cable through Monteverde's world famous Cloud Forest during a tour filled with adrenalin and adventure, at a speed of 60 KM/H and at heights up to 140 meters.
The safe, innovative Sky Trek consists in 11 cross-sectional zip lines that make gives you an opportunity to observe the Cloud Forest of Monteverde and its landscapes from a different perspective.
In addition, the tour includes two observation platforms that exceed the top of the trees to offer a panoramic view toward the areas of San Carlos, Puntarenas and Guanacaste. This tour lasts approximately 2 hours.
Specialized guides sanctioned by the Instituto Costarricense de Turismo (Costa Rica Tourist Board) assist you from platform to platform.
Sky Walk
Anybody that can walk for 2 hours can enjoy this experience. There are no strenuous climbs or mud and the trails are very well maintained. It takes an average of 2 hours, much more if you want to take time to pay close attention to all the different plants, trees and wildlife along the way.
The Sky Walk tour includes 2.5 kilometers of trails and 5 suspended bridges across deep canyons at the level of the treetops. The longest bridge is about 243 meters (800 feet) in length.
The temperature can be cool in these mountains so wear pants, good walking shoes and bring a light jacket or sweater.
Insect repellent is not necessary but suntan protection lotion is. Binoculars and poncho or umbrella are recommended. After all, this is a Cloud Forest.
At the entrance, you can find a restaurant & souvenir shop. There is also a hummingbird garden where you can watch dozens of these amazing creatures flit around.
Because there is a 12 person maximum capacity per bridge, larger groups will need to stagger their start times.
Includes:
RT Transportation From/To your Monteverde Hotel
Sky Tram with Observation Platform
Sky Trek Tree Top Canopy Tour
Sky Walk – hiking tour with five suspension bridges.
Canopy Equipment & Safety Instruction
Tour Info
Average Time: 4 hours
This is a shared tour with no more than nine people
Rates for Public Tour: $85 Per Person
Rates for Private Tour:  $85 Per Person –  Minimum of 2 persons
Tour Schedules: Daily Departures
Non-Private Transportation may stop at multiple hotels before or after your pickup and drop-off times.
Departures every hour to hour and a half from 7:30 AM – 3 PM Schedule expanding to nighttime hours soon.
Please call for exact times.
Deduct $8 if you provide your own transportation
ADD This tour to any hotel package
What to bring
Dress for Adventure
Comfortable walking shoes (good track shoes)
Camera.
Insect Repellent
Bottle of water.
Bill Beard's Operates Many Great Tours In The Monteverde Area: LEARN MORE
480
true
dots
bottomright
300
true
true
800
none

To see all the other adventure tours that Bill Beard's operates in Costa Rica: CLICK HERE
Bill Beard's Costa Rica has privately escorted tours and first class accommodations  throughout the country that may be added to other packages.
We also offer world class adventure tours, scuba diving, snorkeling, surfing, sailing and fishing.
We arrange everything in advance, so you can relax and enjoy your vacation.
For single, triple, quad or group rates, contact our agents.
Our Reservation Office Is Located In La Fortuna, Costa Rica In The Shadow Of Arenal Volcano, behind the Catholic Church, Near The World Famous Hot Springs.
For Reservations & Information
Contact Our Office At 877 853-0538 or 954 453-5044 M – Sat., 9 – 9 ET
Sky Tram Sky Trek Sky Walk Tour
Bill Beard
Bill Beard is the true pioneer of scuba diving in Costa Rica, started diving from dug out canoes in 1970. Bill Beard's Travel specializes in individual, group, honeymoon, family vacation packages, scuba diving, snorkeling, sailing, surfing and adventure tours. Our attention to detail defines us.