Sunsets In Costa Rica
Sunsets In Costa Rica, watching the sun make its dramatic, multicolored exit over the Pacific Ocean is a daily privilege and beloved ritual. In the northwest, pinks, purples and reds explode across the sky as travelers sit on sailing catamarans, scuba divers wait for the night dive and surfers paddle out for to catch the last wave of the day, all in wait for this breathtaking spectacule off the beaches of Playa Hermosa, Playa del Coco, Flamingo, Playa Conchal and Tamarindo, the enormous orange sun glitters over the calm sea as it dips below the horizon.
But no matter where you are on Costa Rica's Pacific coast, watching the sunset from a sail boat or up high is a good idea, and plenty of hotels and restaurants were constructed on mountaintops for this very reason. As a bonus, some of these establishments built infinity pools to reflect the colors of the sky at sundown. Others have special cocktails dedicated solely to the event.
If you can't be up high, in a pool, on a boat or near surfers, be somewhere remote and wild. A sunset is all the more special in a place where man hasn't interfered.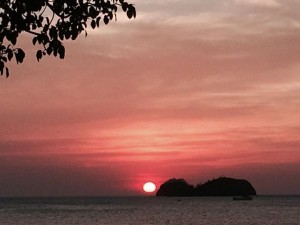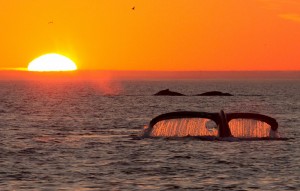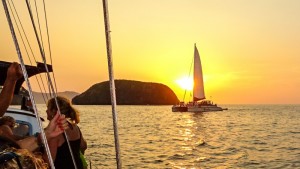 Sunset, snorkeling, fishing, eating & drinking on a seventy five foot catamaran: LEARN MORE
Have you seen our new DVD on scuba diving, fishing & adventure in Costa Rica? If not: GO HERE
See customer comments on Trip Advisor: Go Here

Our agents can set up the all inclusive or al a carte vacation dive package and itinerary you want throughout the country that can include air, transportation, accommodations and all the activities you wish. There is no charge for our service and we'll save you money and lots of time and you'll get the vacation you want.  Bill  Beard's reservation office is located in La Fortuna, Costa Rica in the  shadow of Arenal Volcano, behind the Catholic Church near the world famous hot springs.
CONTACT: Direct: 954-453-5044 FAX: 321-400-1404 Toll free: 877-853-0538
Office Hours:  8-6 CST M-F & Sat 9-5 CST
Bill Beard Costa Rica LOCAL number 2479-7089 from 9-5 PM when you are in Costa Rica.
e mail anytime agent@billbeardcostarica.com
Sign up for our Latest Newsletter & Adventure Travel Deals