Tamarindo Estuary Kayak Tour
Tamarindo Estuary Kayak Tour :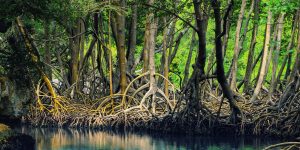 The Kayak Tour to the Tamarindo Estuary offers an adventure through a wildlife filled nature setting near Tamarindo in the Guanacaste region, Northwest Pacific, Costa Rica.
This is a really "off the beaten path" tour with plenty fauna & flora. The multitude of plants are both varied and unique, but can be invariably recognized by their striking root systems, which delve beneath the surface of the water to prop up the plants above. A great variety of animals reside within this habitat, including caimans, snakes, monkeys, iguanas, and several species of birds. Mangrove tours allow travelers to explore these complex waterways from the security of a kayak or covered boat,  with the company of a naturalist guide.
These guides both educate passengers on the important biological relationships at work in the mangrove, as well as help spot critters along the way.
Either single or double sit on top ocean kayaks will introduce us in to this nature lover's paradise; great quantity of fauna species and a very especial flora characteristic of this ecosystem, the mangrove. Using paddles, not motors, will give us the chance to observe the animals but not disturbing them, allowing us to have better pictures or if we have no camera to obtain better memories.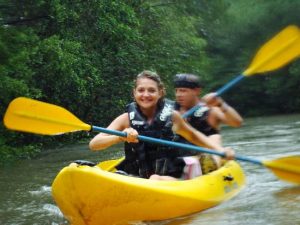 After paddling for one hour, some fresh fruit will be enjoyed that will give you energy and hydration to continue enjoying this beautiful natural environment that is now considered as an international importance wet land (Ramsar site) in action.

Included

Transportation, guide, single or double kayaks with equipment. Bottled water, Park Entrance

Duration

2 1/2 Hours
Bill Beard's Costa Rica has privately escorted tours and first class accommodations  throughout the country that may be added to other packages.
To see more privately escorted tours Bill Beard's operates daily from this area: CLICK HERE

To see all the other adventure tours that Bill Beard's operates in Costa Rica: CLICK HERE
We also offer world class adventure tours, scuba diving, surfing, sailing and fishing.
We arrange everything in advance, so you can relax and enjoy your vacation.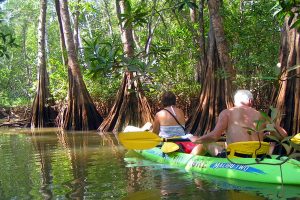 Our Reservation Office Is Located In La Fortuna, Costa Rica In The Shadow Of Arenal Volcano, behind the Catholic Church, Near The World Famous Hot Springs.

For Reservations & Information

Contact Our Office At 877 853-0538 or 954 453-5044 M – Sat., 9 – 9 ET
Sign up for our Latest Newsletter & Adventure Travel Deals
To Get Connected And Stay Up To Date With Bill Beard's
Like Us On Facebook
Follow Us On Twitter
Watch Us On YouTube
Connect On LinkedIn
IMPORTANT NOTE – Please be advised that every reasonable effort has been made to keep all prices up to date and free of errors or omissions. Prices and policies from our vendors and the Costa Rican government are subject to change without notice. Invoices will be issued at the time of booking to confirm all final rates and offers.