Tenorio River Rafting (Class III-IV)

Tenorio River Rafting (Class III-IV).  The Tenorio River in Costa Rica begins near the Tenorio Volcano where it becomes a fast moving river with15 miles of rapids perfect for white-water rafting, then it flows to join the Corobicí River, the best river in the area for wildlife observation. 
You are picked up at your hotel after breakfast in one of our private air-conditioned vehicles. It takes around one hour for this scenic drive. We go directly to the Corobici River.  Here we meet up with the rafting operators and head for the Tenorio River.  For larger groups where we use our 24-passenger Coaster buses, we will go directly to the launching point that is a half hour from the rafting operation's base camp.

Rates: $165 Per Person
This river totally rocks and it is not for the meek and mild. Four-man rafts and 6-8 ft drops make it even more challenging to stay in the raft. Please remember that everyone paddles.
After the scenic drive you will check in with the rafting company and will transfer to their vehicles for transport to the put-in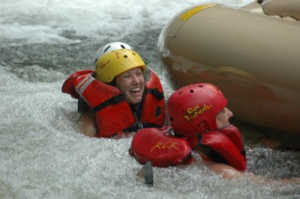 point of the Tenorio River (approx 30 min drive). Experienced River Rafting Guides will carry the rafts, paddles, safety equipment and refreshments to the riverbank where you will be given rafting equipment and basic rafting and safety instructions before you embark on your rafting tour.
Start with gentle white water breaks and work your way through Class III and IV rapids and thrilling drops. Safety kayakers accompany rafters for the entire trek. Break for snacks and beverages and to enjoy a little time on land or in the sun with your rafting guides and other rafting companions.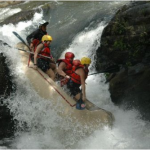 At the end of the tour, guides will carry the gear up the banks and once loaded you will return to a restaurant overlooking the beautiful Corobici River and enjoy a typical lunch and local fruit beverage. Beer, sodas, and alcoholic beverages are available, but not included.
CD with photos of your trip and bonus wildlife shots are available at the end of the tour ($25), and there is a small gift shop. After lunch, you will be driven back to your Beach Hotel*.
Great Tours Offered In This Area By Bill Beard's: LEARN MORE
480
true
dots
bottomright
300
true
true
800
none

Check our Availability or Book Online


Adventure tours that Bill Beard's operates throughout Costa Rica: GO HERE
Bill Beard's Costa Rica has privately escorted tours and first class accommodations  throughout the country that may be added to other packages.
We also offer world class adventure tours, scuba diving, snorkeling, surfing, sailing and fishing.
We arrange everything in advance, so you can relax and enjoy your vacation.
For single, triple, quad or group rates, contact our agents.
Our Reservation Office Is Located In La Fortuna, Costa Rica In The Shadow Of Arenal Volcano,
behind the Catholic Church, Near The World Famous Hot Springs.
For Reservations & Information
Contact Our Office At 877 853-0538 or 954 453-5044 M – Sat., 9 – 9 ET
Sign up for our Latest Newsletter & Adventure Travel Deals
Tenorio River Rafting (Class III-IV) Costa Rica
These activities are NOT RECOMMENDED for pregnant women, those with heart issues, back problems, or other conditions that may preclude them from safely participating in these activities or bring potential harm to other participants
Effective July 1, 2015 – IMPORTANT NOTE – To Get Connected And Stay Up To Date With Bill Beard's
Like Us On Facebook
Follow Us On Twitter
Watch Us On YouTube
Connect On LinkedIn
Please be advised that every reasonable effort has been made to keep all prices up to date and free of errors or omissions.  Prices and policies from our vendors and the Costa Rican government are subject to change without notice. Invoices will be issued at the time of booking to confirm all final rates and offers.