The Eternal Childrens Forest Tour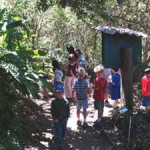 The Eternal Childrens Forest Tour
The Eternal Children's Rainforest Tour is located in the Tilaran Mountain range in the North-east part of the country with more than 22,000 hectares of Primary and Secondary Forest as well as areas in regeneration.
This reserve has been able to conserve thanks to the support of children, adults, schools and other organizations from over 40 countries around the world.
The Eternal Childrens forest tour is now the biggest Private Reserve in Costa Rica and forms part of the "Biosfera Agua y Paz" of UNESCO, its also founding member of the Costa Rican Private Reserve Network and also member of the Union Mundial para la Naturaleza (World Nature Union) (IUCN).
This private reserve (the largest in Central America) acquires the name by which bought the land with thousands of donations of children around the world.
El Bajo del Tigre is a section of the Children's Eternal Forest in Monteverde and one of the best areas to observe wildlife.
Includes:
Entrance fees
Transportation
Bilingual tour guide who specializes in snakes
Duration: 1 ½ hours.
Hours: 9:00 a.m. to 4:00 pm
Day or Night Tour
Price:  $70 Adults, Children 4-12 $40, Children under 3 free
Hours: 9:00 a.m. to 4:00 pm
To see all the other adventure tours that Bill Beard's operates in Costa Rica: CLICK HERE
Bill Beard's Costa Rica has privately escorted tours and first class accommodations  throughout the country that may be added to other packages.
We also offer world class adventure tours, scuba diving, snorkeling, surfing, sailing and fishing.
We arrange everything in advance, so you can relax and enjoy your vacation.
For single, triple, quad or group rates, contact our agents.
Our Reservation Office Is Located In La Fortuna, Costa Rica In The Shadow Of Arenal Volcano, behind the Catholic Church, Near The World Famous Hot Springs.
For Reservations & Information
Contact Our Office At 877 853-0538 or 954 453-5044 M – Sat., 9 – 9 ET
The Eternal Childrens Forest Tour
Bill Beard
Bill Beard is the true pioneer of scuba diving in Costa Rica, started diving from dug out canoes in 1970. Bill Beard's Travel specializes in individual, group, honeymoon, family vacation packages, scuba diving, snorkeling, sailing, surfing and adventure tours. Our attention to detail defines us.