Villa Buena Onda Luxury Boutique Hotel Fall Special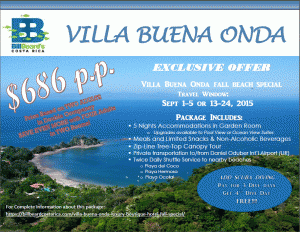 CLICK ON IMAGE TO ENLARGE
HOTEL: 5 NTS VILLA BUENA ONDA HOTEL-GARDEN ROOM
* Upgrades available for Poolview or Room –(Additional Charge for upgrades)
HOTEL TAX & SERVICE, DAILY MEALS, LIMITED NON-ALCOHOLIC BEVERAGES & SNACKS WITH TAX/SERVICE.
DAY 1–PRIVATE GROUND TRANSFER FROM LIR TO VILLA BUENA ONDA HOTEL
DAY 2 -FREE DAY OR DIVE DAY 1
DAY 3 – FREE MORNING OR DIVE DAY 2
                  AFTERNOON TOUR: CONGO TRAIL CANOPY TOUR (P/U from VILLA BUENA ONDA included)
DAY 4 – FREE MORNING OR DIVE DAY 3
DAY 5 – FREE MORNING OR DIVE DAY 4
DAY 6 –PRIVATE GROUND TRANSFER FROM VILLA BUENA ONDA HOTEL TO LIR
Twice Daily Shuttle Service to nearby beaches: Coco, Hermosa and Ocotal
Photos and Information About Villa Buena Onda Luxury Boutique Hotel: LEARN MORE
Tours That Bill Beard's Operates Daily From Villa Buena Onda: LEARN MORE
468
true
dots
bottomright
264
true
true
800
none

To see all the other adventure tours that Bill Beard's operates in Costa Rica: CLICK HERE
Bill Beard's Costa Rica has privately escorted tours and first class accommodations throughout the country that may be added to other packages.
We also offer world class adventure tours, scuba diving, snorkeling, surfing, sailing and fishing.
We arrange everything in advance, so you can relax and enjoy your vacation.
For single, triple, quad or group rates, contact our agents.
Our Reservation Office Is Located In La Fortuna, Costa Rica In The Shadow Of Arenal Volcano, behind the Catholic Church, Near The World Famous Hot Springs.
For Reservations & Information
Contact Our Office At 877 853-0538 or 954 453-5044 M – Sat., 9 – 9 ET
Sign up for our Latest Newsletter & Adventure Travel Deals
Villa Buena Onda Luxury Boutique Hotel Fall Special