Volcano Lodge And Springs
Volcano Lodge And Springs is located on the road that connects La Fortuna de San Carlos with the Arenal Lake, with direct view of the Arenal Volcano, a World-famous volcano.
Volcano Lodge An Springs has 65 spacious and comfortable rooms with two double beds, a/c and private bathroom with hot water. Each room has a private balcony with rocking chairs looking directly at the volcano and the beautiful gardens. There are two swimming pools for adults and one for children at the restaurant play area and park next to the spa where you can get a massage and full body treatment. The thermal waters from the volcano hot springs are located in the swimming pool and spa area
Any trip to Costa Rica must always include a visit to the beautiful Northern Region, land of green magnificent natural beauty. This moderately priced hotel near Arenal Volcano is the one used most by Bill Beard's. Volcano Lodge At Arenal has a great location near most of the activities we use.
Eighty five percent of visitors to Costa Rica travel to Arenal Volcano. Conical Volcán Arenal is the youngest stratovolcano in Costa Rica and one of its most active. The 1670-m-high andesitic volcano towers above the eastern shores of Lake Arenal, which has been enlarged by a hydroelectric project. Arenal lies along a volcanic chain that has migrated to the NW from the late-Pleistocene Los Perdidos lava domes through the Pleistocene-to-Holocene Chato volcano, which contains a 500-m-wide, lake-filled summit crater. The earliest known eruptions of Arenal took place about 7000 years ago, and it was active concurrently with Cerro Chato until the activity of Chato ended about 3500 years ago. Growth of Arenal has been characterized by periodic major explosive eruptions at several-hundred-year intervals and periods of lava effusion that armor the cone. Arenal's most recent eruptive period began with a major explosive eruption in 1968. Continuous explosive activity accompanied by slow lava effusion and the occasional emission of pyroclastic flows has occurred since then from vents at the summit and on the upper western flank.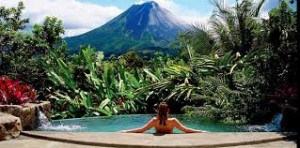 Bill Beard's has daily tours from Volcano Lodge And Springs to all the attractions. Hot Springs, Spas, zip lining, canyoning, waterfall rappelling, kayaking, lake fishing, rain forest, whitewater river rafting and much much more and we can add it all to your itinerary.
To See The Adventure Tours That Bill Beard's Operates Daily From This Hotel: CLICK HERE
480
true
dots
bottomright
300
true
true
800
none

To see all the adventure tours that Bill Beard's operates in Costa Rica: CLICK HERE
Bill Beard's Costa Rica has privately escorted tours and first class accommodations  throughout the country that may be added to other packages.
We also offer world class adventure tours, scuba diving, surfing, sailing and fishing.
We arrange everything in advance, so you can relax and enjoy your vacation.
For single, triple, quad or group rates, contact our agents.
Our Reservation Office Is Located In La Fortuna, Costa Rica In The Shadow Of Arenal Volcano, behind the Catholic Church, Near The World Famous Hot Springs.
For Reservations & Information
Contact Our Office At 877 853-0538 or 954 453-5044 M – Sat., 9 – 9 ET
Volcano Lodge And Springs Costa Rica