Welcome to Costa Rica
Welcome to Costa Rica – Friendly "tico" residents are proud of the ecological heritage that has earned Costa Rica international recognition. This small country's incredible landscape includes beautiful Pacific and Caribbean beaches, breath-taking mountains, incredible valleys, active volcanoes and lush tropical forests. It is one of the most bio-diverse countries on the planet with more than 850 species of birds, 600 species of butterflies, and exotic mammals such as sloths, tapirs, coatimundis, anteaters, peccaries, and jungle cats, which makes traveling here a delight for tourists who discover Costa Rica's unique wonders.
Northwest Pacific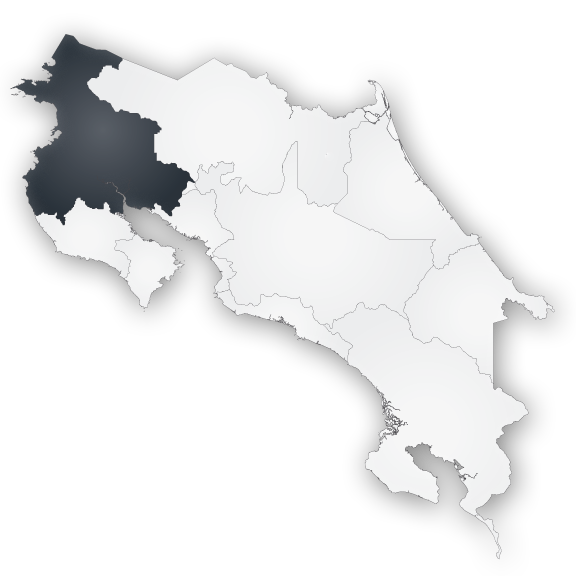 With a total of 5,921 sq. miles and more than 400 miles of coast line, the Guanacaste tourism area comprises the Pacific Coast area from the border of Nicaragua to the Bongo River estuary in the Nicoya Peninsula. This tourism area is home to a very important section of Costa Rica's cultural and natural heritage. This area boasts a significant number of protected areas including water, land, mountain, and coastal ecosystems that are teaming with life.
Arenal Volcano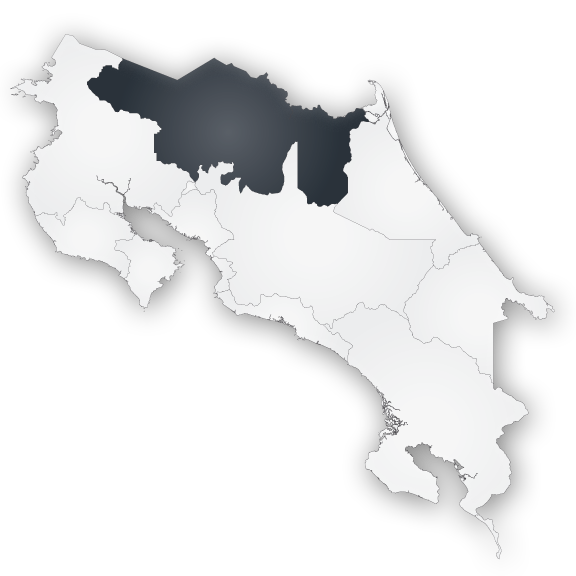 This is a region that, due to its unique geographical characteristics, invites visitors to combine natural wonders with adventure outings. The Northern Plains are home to national parks, protected areas, rivers, waterfalls and even volcanoes, making this area a tourism hotspot. The region's diverse offerings attract many types of tourists, including those interested in scientific pursuits, nature, health and adventure travels.
Central Pacific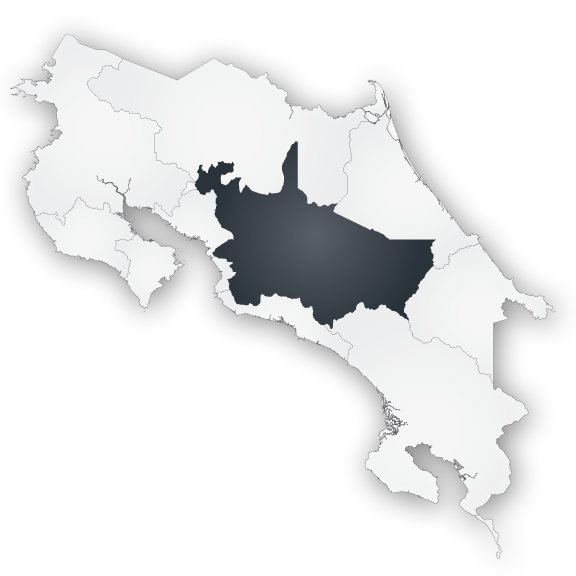 This region, situated in the center of the country, is home to the majority of the Costa Rican population and is the nation's economic center. Additionally, the Central Valley is home to Costa Rica's principal transportation hub: the Juan Santamaría International Airport. The region's urban development does not prevent the Central Valley from also offering a wide range of cultural and natural attractions.
Monte Verde / Santa Elena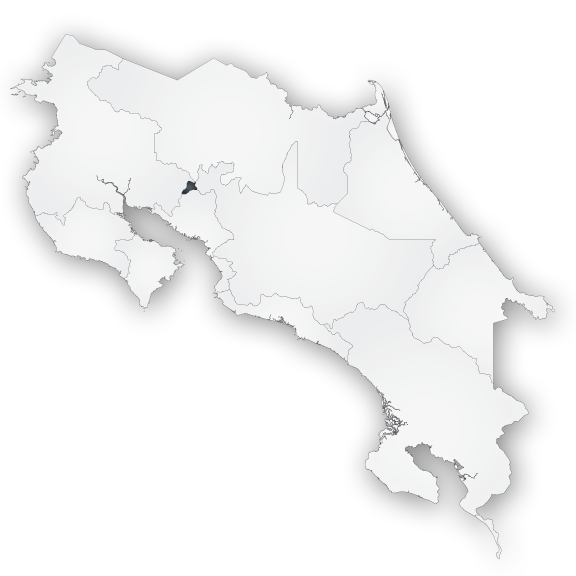 Straddling the Continental Divide at 1440 meters (4662 ft), the Santa Elena and Monteverde Cloud Forest area offers one of the most interesting place to visit in Costa Rica. In Monteverde Costa Rica rain forest there are more than 100 species of mammals including 5 species of cats, over 400 species of birds including 30 kinds of hummingbirds, tens of thousands of insect species (over 5000 species of moths) and 2,500 species of plants (420 kinds of orchids). The area is acclaimed as one of the most outstanding wildlife refuges in the New World Tropics.
Caribbean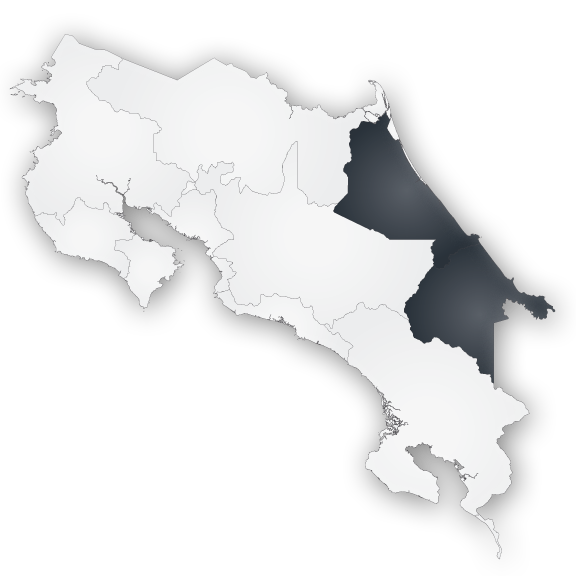 Its 100% natural surroundings, relaxing setting, and Afro-Caribbean traditions are just three reasons why the Southern Caribbean should be part of any Costa Rican vacation. This region offers many varied and exciting options for enjoying a visit to the area. One of the most distinctive attributes is its tropical rainforest, where it's always warm and moist. These conditions are most well known in places like Cahuita, Puerto Viejo, and Gandoca, which feature a mix of beach, tropical forest, and Afro-Caribbean culture.
Southwest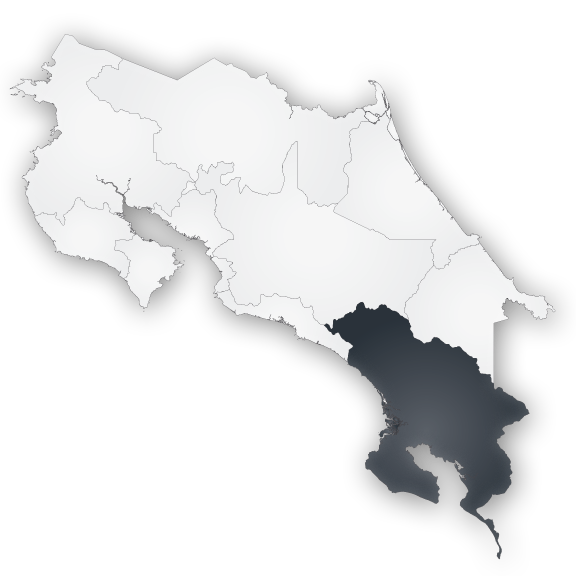 A true national treasure: that's how to sum up in just one sentence the incredible value and natural beauty of Costa Rica's Southern Pacific. Known for its biodiversity and given its unique characteristics, this region stands out for its geographical contrasts. Additionally, this area is considered Costa Rica's top destination for nature lovers and those in search of extreme adventure. The South Pacific boasts such abundant natural riches that National Geographic called it "the most biologically intense place on Earth.
Official Name: The Republic of Costa Rica(Republica de Costa Rica)
Capital City: San José (337,000) metro (1.5 mil) People: Costa Rican
Official Language: Spanish
Languages Spoken: Spanish, English, and French
Government: Democratic Republic
Geopolitical Structure: 7 provinces; Alajuela, Cartago, Guanacaste, Heredia, Limon, Puntarenas, San Jose Independence: 15 September 1821 (from Spain)
National Holiday: Independence Day, 15 September (1821)
Official Currency: Costa Rican Colon
Religion: Catholic (76%)
Land Area: 51,060 sq km (19,714 sq miles)
Latitude/Longitude: 9º 93N, 84º 08W
Highest Point: Chirripo, 12,533 ft. (3,820 m) Bordering Body of Water – lies between the Pacific Ocean and Caribbean Sea Time Zone: UTC Islands: Isla de Caño (Caño Island), Isla de Coco, Isla Tortugas
Major Industries: Tourism, electronic exports, MLB baseballs, agriculture (coffee, bananas, sugar, corn, rice, beans, potatoes; beef; timber).
The national flag: Consists five horizontal bands of blue (top), white, red (double width), white, and blue, with the coat of arms in a white elliptical disk on the hoist side of the red band; above the coat of arms a light blue ribbon contains the words, AMERICA CENTRAL, and just below it near the top of the coat of arms is a white ribbon with the words, REPUBLICA COSTA RICA. The blue band symbolizes the blue sky that covers Costa Rica like a protective blanket. The white stands for the peace that characterizes the country as well as the purity of its ideals. Finally, the red band represents the energy, the courage and the generosity with which the Costa Ricans stand up for their principles and ideals.
The national coat of arms: It shows three volcanoes representing the country's three mountain ranges and a valley. These divide two oceans where ships are sailing, symbolizing the sea ports of the Pacific and the Caribbean Ocean. The seven stars stand for the seven provinces of Costa Rica, and the rising sun commemorizes the birth of the new nation. At the top of the coat of arms there is an inscription saying: "Central America"!
The national flower: In Costa Rica, cattleya skinneri is one of the most common orchids. When in 1937 a vote was organized to choose the national flower of Costa Rica, nobody was surprised that cattleya skinneri was the winner. Not only scholars and horticulturists participated in the vote, but also secondary school and university students.
National Bird: The so called Yigüirro (clay-colored robin) was declared national bird of Costa Rica on January 3rd, 1977, as a tribute to its powerful and melodious call that signals the beginning of the rainy season.This bird was chosen especially because it is so familiar to Costa Ricans as it tends to live near people's homes.
National Tree: On August 31, 1959, the Guanacaste tree (enterolobium ciclocarpum) was declared the national tree of Costa Rica. It was chosen as a tribute to the people of Guanacaste, which was the last province to join the Republic in 1825. With the giant shade it provides, this tree symbolizes the protection that Costa Ricans enjoy from the State. The name "Guanacaste" originates from a native language called "náhuatl" and means "tree of the ears". This is because the fruits of the tree are similar to the shape ofthe human ear.
Unofficial Motto: "Pura Vida."- the words convey the state of happiness, peace, and tranquility that the political stability and freedom bring to Costa Ricans. The phrase actually comes from a 1956 Mexican movie, "Pura Vida!" By 1970 Costa Ricans were using the expression on a daily basis. The expression "Pura Vida" has become so popular that has been added to Costa Rican Spanish dictionaries as an idiom to greet, or to show appreciation.
Costa Rica — Wildlife and biodiversity
In spite of its small size, Costa Rica features greater biodiversity than Europe or North America! This is due to a number of factors, among them: The country's location between North and South America, enabling plants and animals from both continents and the Antilles (Caribbean islands) to establish themselves there. Costa Rica's tropical climate and geographical makeup, that includes a range of habitats, from lowland rainforest to cloud forests, to tropical lakes and rivers. The nation's ecological policy has protected 33% of it's natural territory. Costa Rica has 5 % of the World's diversity 9,000 specias of plants & 900 species of trees 1500 specias of orchids 976 species of brids including the resplendent quetzal 200 mammal species 150 species of amphibians 1031 species of fish both fresh & salt water 14 species of turtles both fresh & salt water 10% of the world's butterflies including the beautiful morpho.
 To see all the other adventure tours that Bill Beard's operates in Costa Rica: CLICK HERE
Have you seen our new DVD on scuba diving, fishing & adventure in Costa Rica? If not: GO HERE
See customer comments on Trip Advisor: Go Here

Our agents can set up the all inclusive or al a carte vacation package and  itinerary you want throughout the country. There is no charge for our  service and we'll save you money and lots of time and you'll get the vacation you want.
Our Reservation Office Is Located In La Fortuna, Costa Rica In The Shadow Of Arenal Volcano, Behind The Catholic Church, Near The World Famous Hot Springs.
For Reservations & Information
Contact Our Office At 877 853-0538 or 954 453-5044 M – Sat., 9 – 9 ET

Sign up for our Latest Newsletter & Adventure Travel Deals
Welcome to Costa Rica